LVT floor/LVT plank/LVT tile/LVT PVC flooring/LVT PVC flooring plank/LVT vinyl flooring
1. Main Product
(1) LVT Dry Back
Dryback LVT is a hard vinyl product that is designed to look like a Wood; or Tile floor.
The dryback version of the product is adhered directly to the sub-floor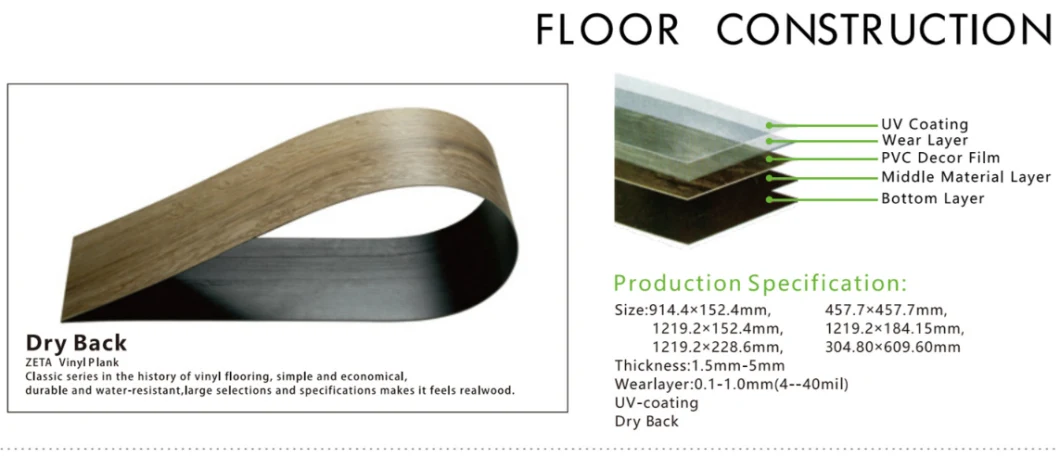 (2) LVT Loose Lay(Anti-slip Backing, Sticky Backing)
Loose lay vinyl planks are a unique product that doesn't rely on any fasteners, adhesive or even tongue
and groove mechanisms to hold themselves in place. These thick vinyl rectangles simply lay in
position on a floor, and remain there once installed.

(3) LVT Click
Click LVT is a Hard Vinyl floor that is produced with a 'under-layer' that incorporates a click joint system.
It is therefore able to be fitted as a loose-lay product, without adhesive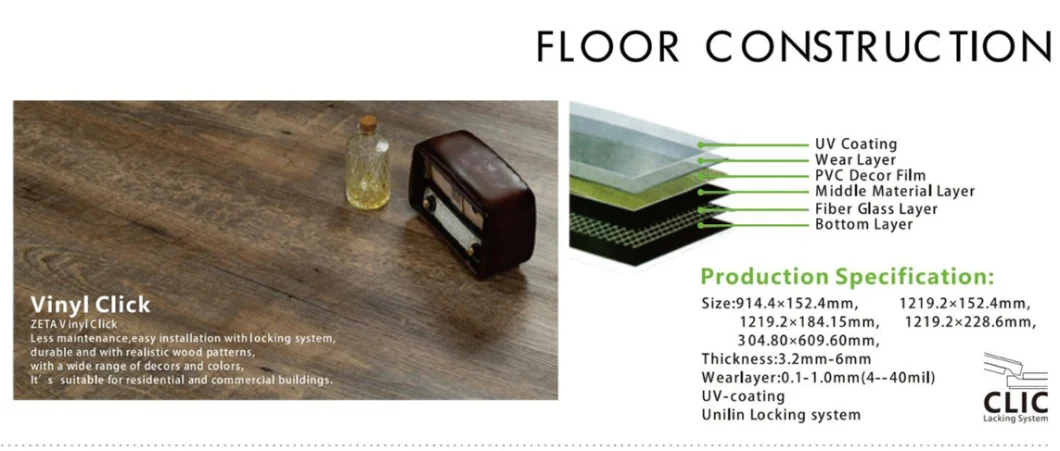 (4) SPC Click
SPC flooring stands for Stone Plastic Composite. Known for being 100% waterproof with unparalleled
durability, these engineered luxury vinyl planks use advanced technologies to
beautifully mimic natural wood and stone at a lower price point.

(5) WPC Click
WPC flooring stands for Wood Plastic Composite. These 100% waterproof engineered luxury vinyl
planks and tiles are DIY-friendly, featuring an effortless interlocking system that can be
installed over most existing subfloors.

ZETA Floor Standard and Technical Specification
Item
Specification/Standard/Certification
LVT
SPC
Technology
Production Method
Hot Pressing
Hot Laminating
Appearance
Surface Treatment
/
Texture / Embossed / Crystal / MAT /EIR,etc.
Wearlayer
/
0.1mm - 1.0mm
Thinkness
EN428
1.5mm - 5mm
3.2mm-6.5mm
Edge
/
V-groove / Micro V-groove ( on wearlayer )
Underlayment
/
Anti-sliding layer
EVA / IXPE / Cork
Available Size
/
6"x36"/48" , 7.25'x36'/48"/60" , 9"x48"/60"/72"
Quality
Density
EN436
2000g/m³±100
Size Stability/High Temperature Shrinkage
EN434/SGS
Dry back : 0.2%
100% virgin : 0.1%
≤0.08%
Size Stability/High Temperature Warped
EN434/SGS
Dry back : ±2.0mm
100% virgin : ±1.5mm
±1.0mm
Peel Strength
(N/50mm)
EN431
Wearlayer≤0.12mm : ≥38N
0.12mm≤Wearlayer≤0.55mm : ≥55N
≥70
Click Tension
(N/50mm)
EN684
≥145N/50mm
≥175N/50mm
Light Fastness
ENISO 105 B02
≥6
Heavy Metal
SHA19-100142.001
PASS
PASS
Formalldehyde
ISO16000/SGS
PASS
PASS
VOC Emissions
ISO16000/A+
N/A
N/A
Staining Resistance
EN423:2001
N/A
N/A
Scratch Resistance
ISO 1518/SGS
≥3000g
≥3000g
Impact Resistance
ASTM F1265-03a
N/A
N/A
Flam resistance
EN9239-1/SGS
Class B1-S1
Class B1-S1
Certificates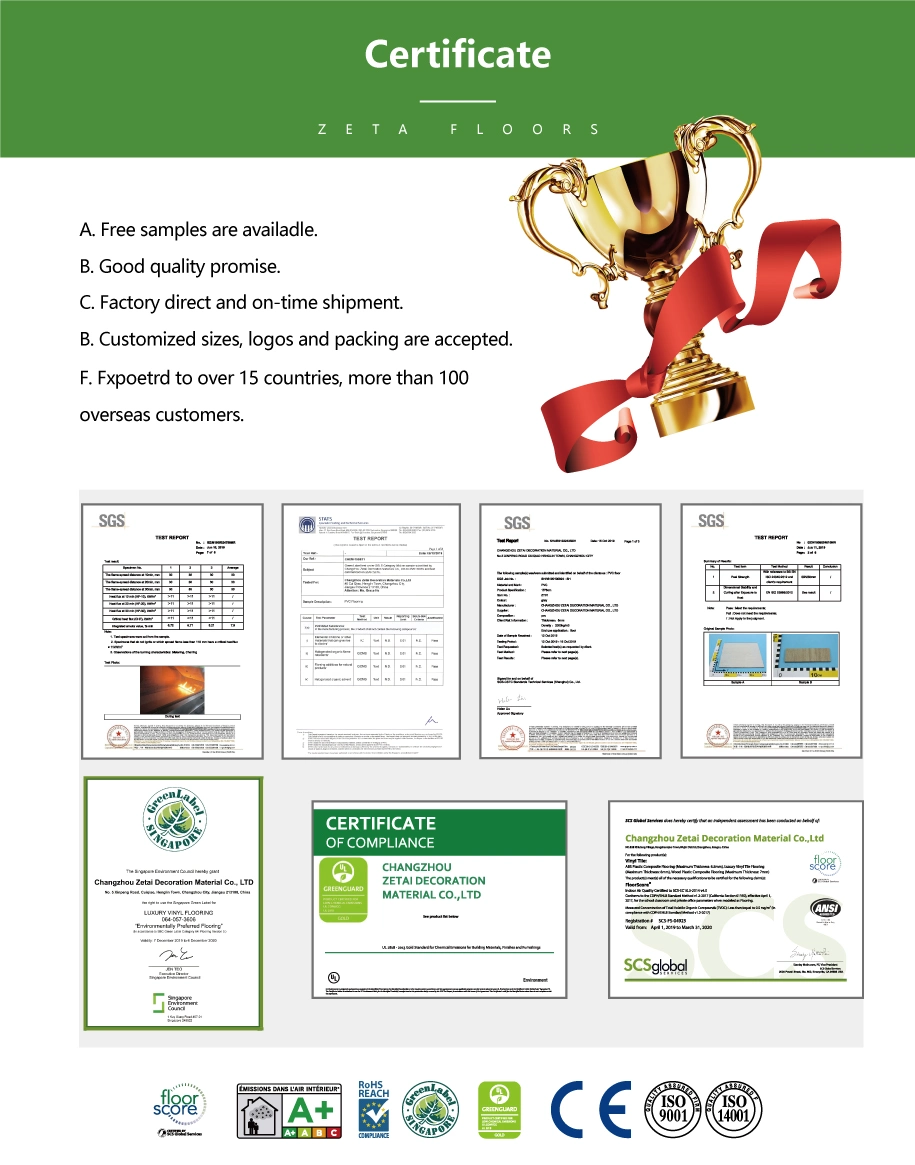 Product Show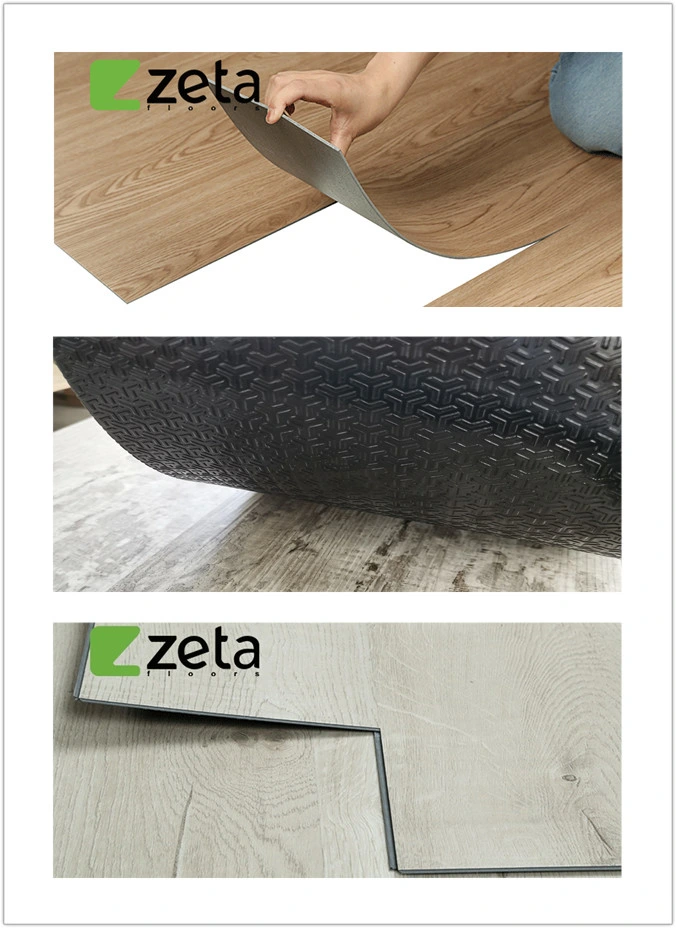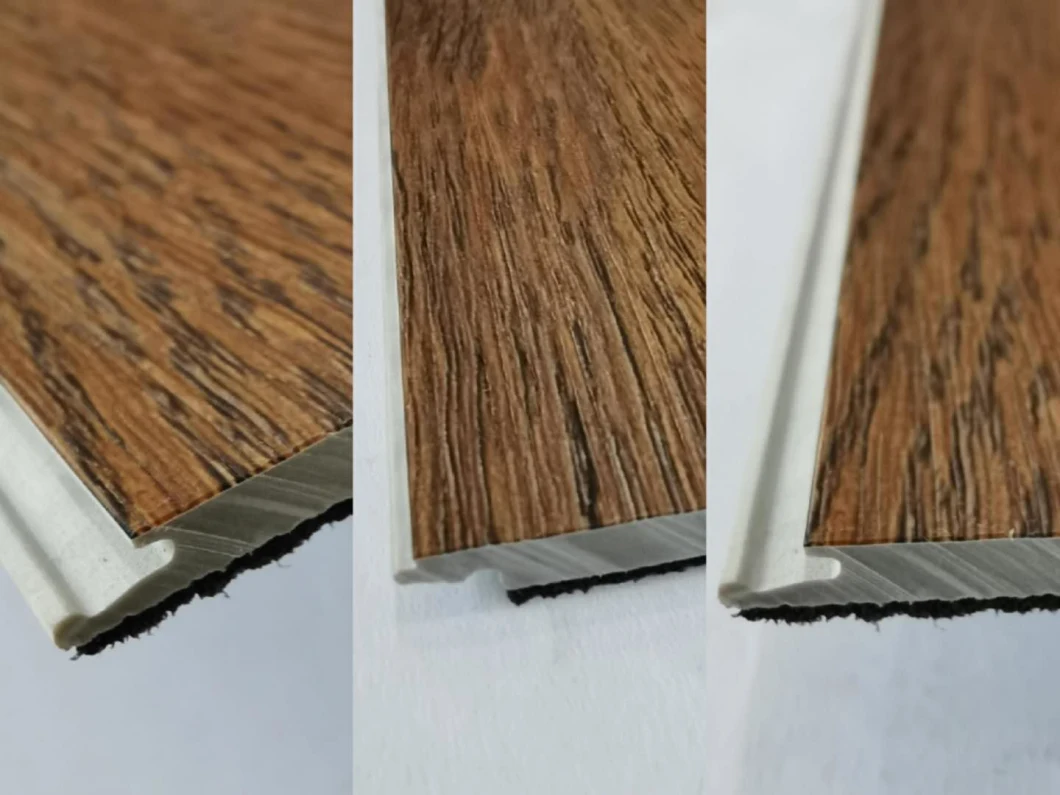 More Colors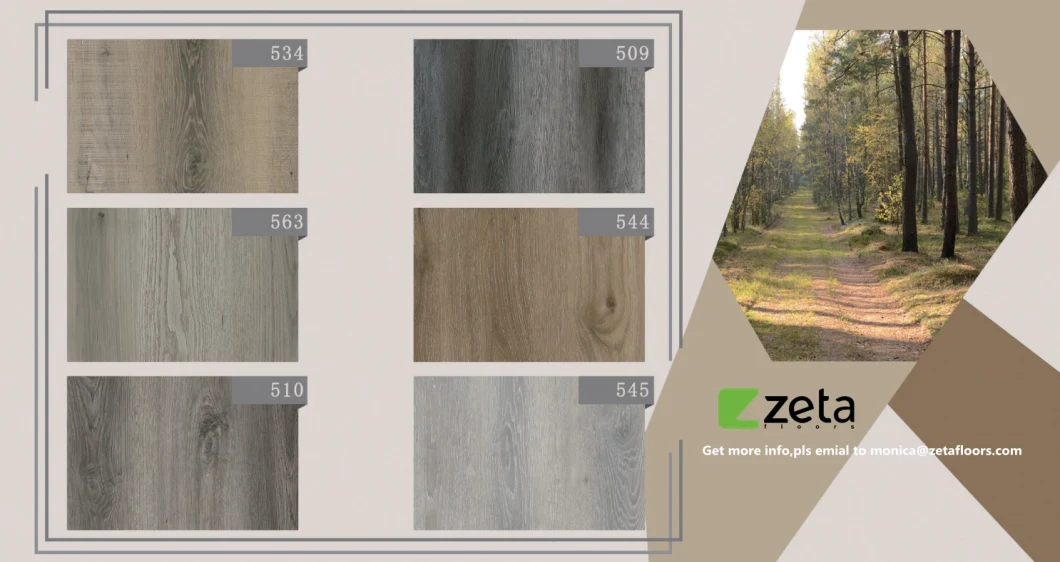 Application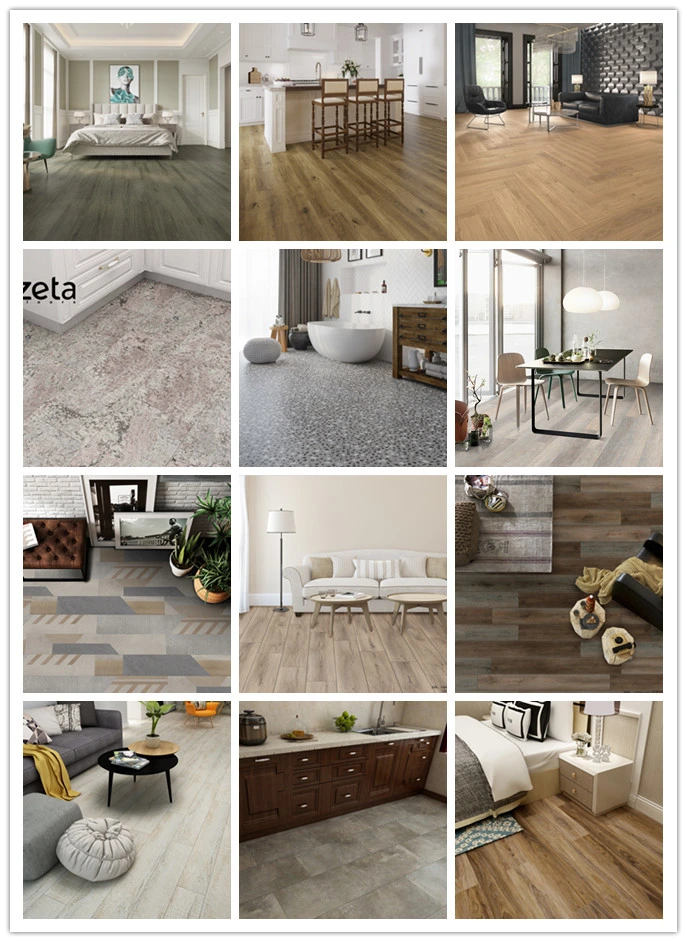 Company Information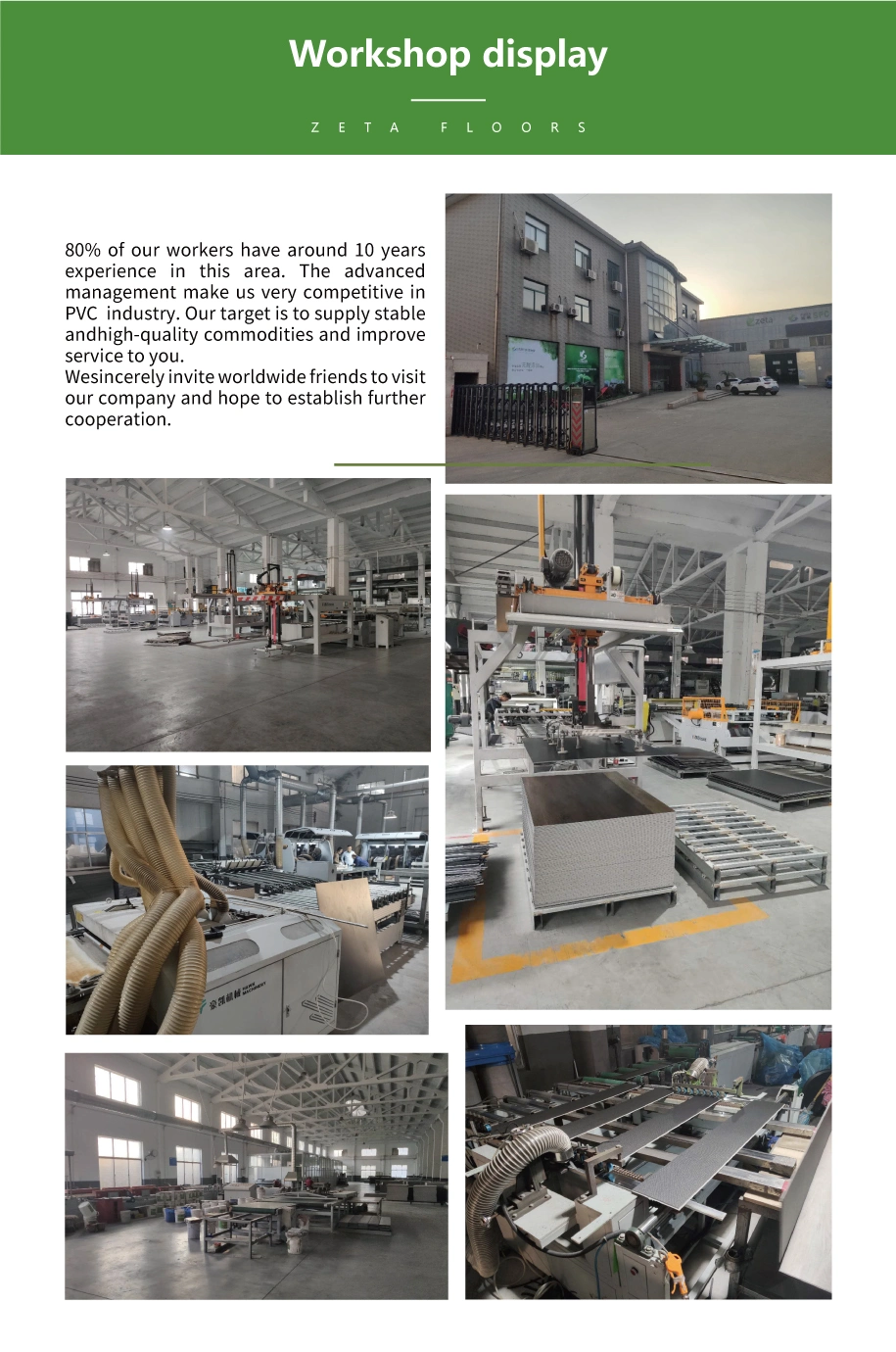 ZETA FLOORS,CARE YOUR SPACE MORE!
More Information,pls contact:
Monica Pan-
Sales Manager