Wood plastic composite outdoor decorative wpc decking
1. Product Description: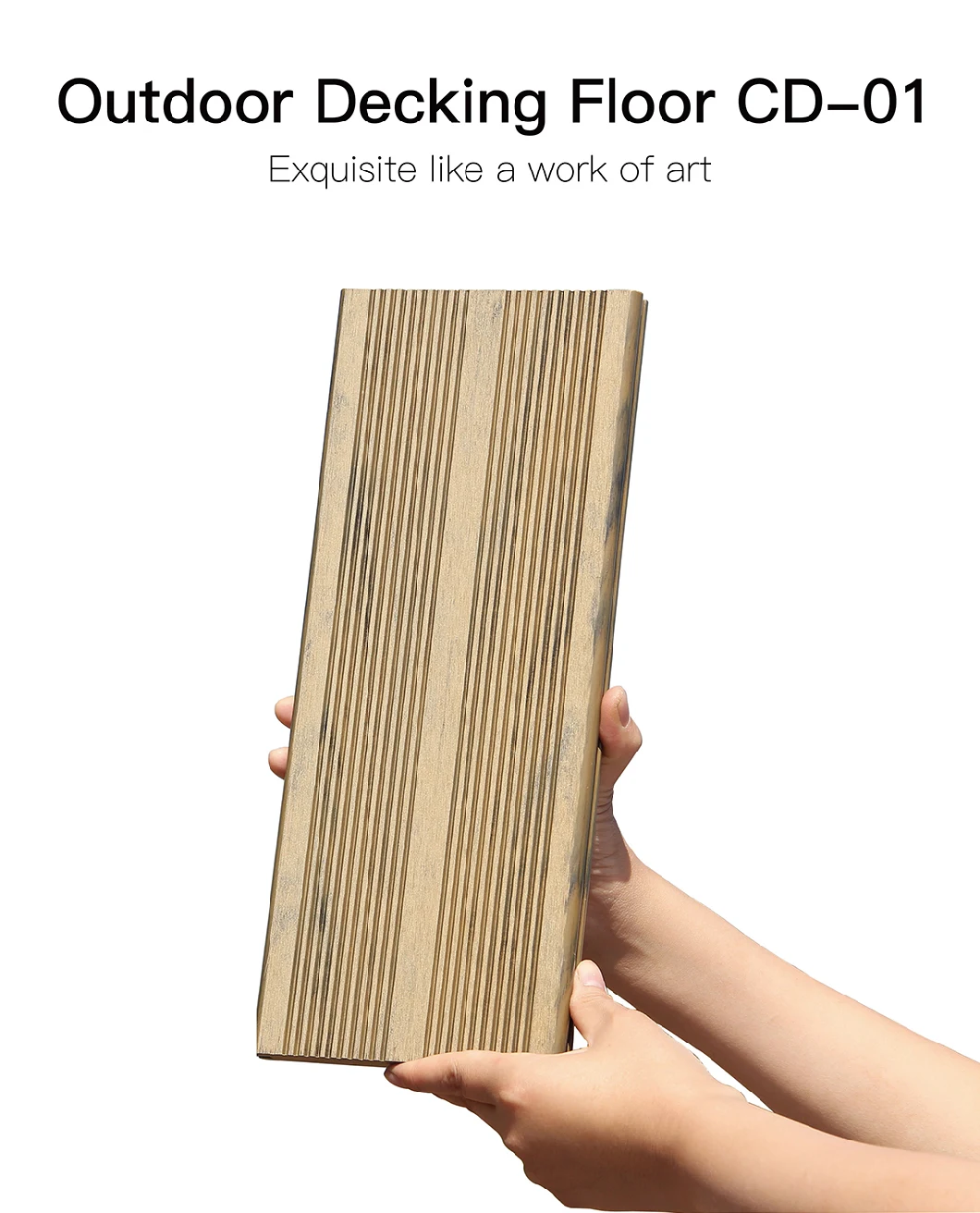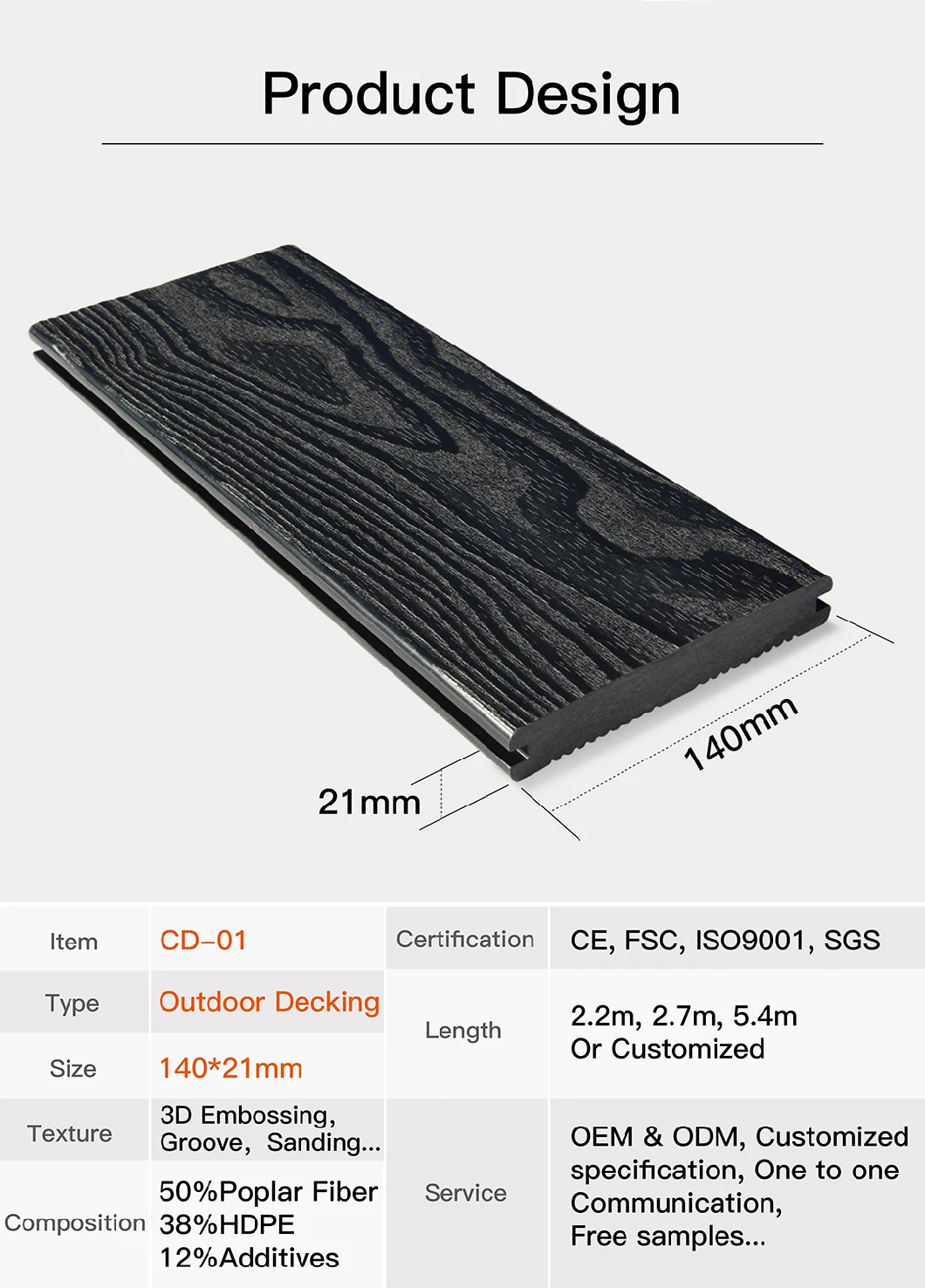 | | |
| --- | --- |
| Item | CD-01 |
| Size | 140x21mm |
| Type | Outdoor WPC Decking |
| Texture | Groove, 3D Deep Embossing, Sanding |
| Composition | 50%wood fiber, 38%HDPE, 12% additives(like anti-uv additive) |
| Certififation | CE, FSC, ISO900, SGS |
| Length | 2.2m, 2.7m, 5.4m, customized |
| Servive | OEM&ODM, Customized specification, one to one communication, free samples and so on. |
2. Surface Treatment: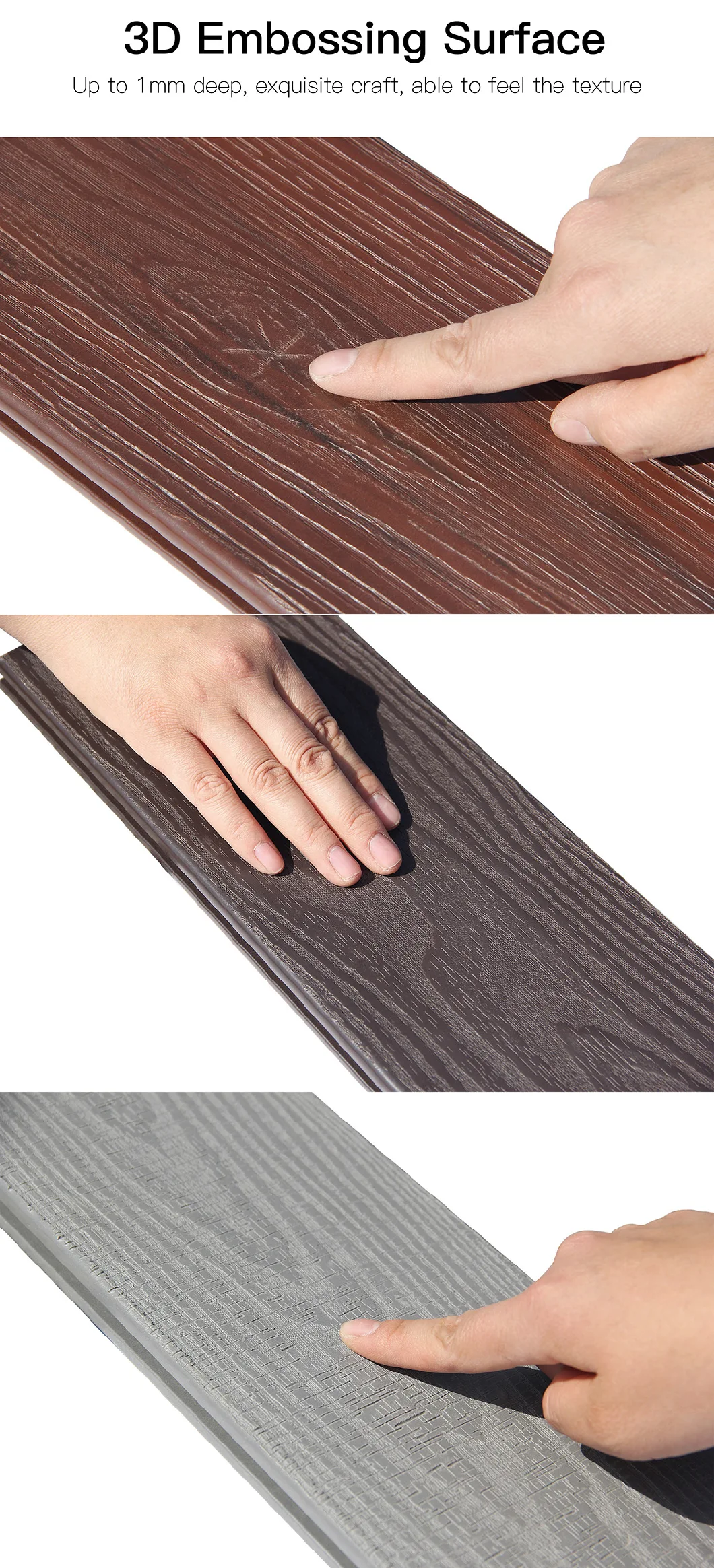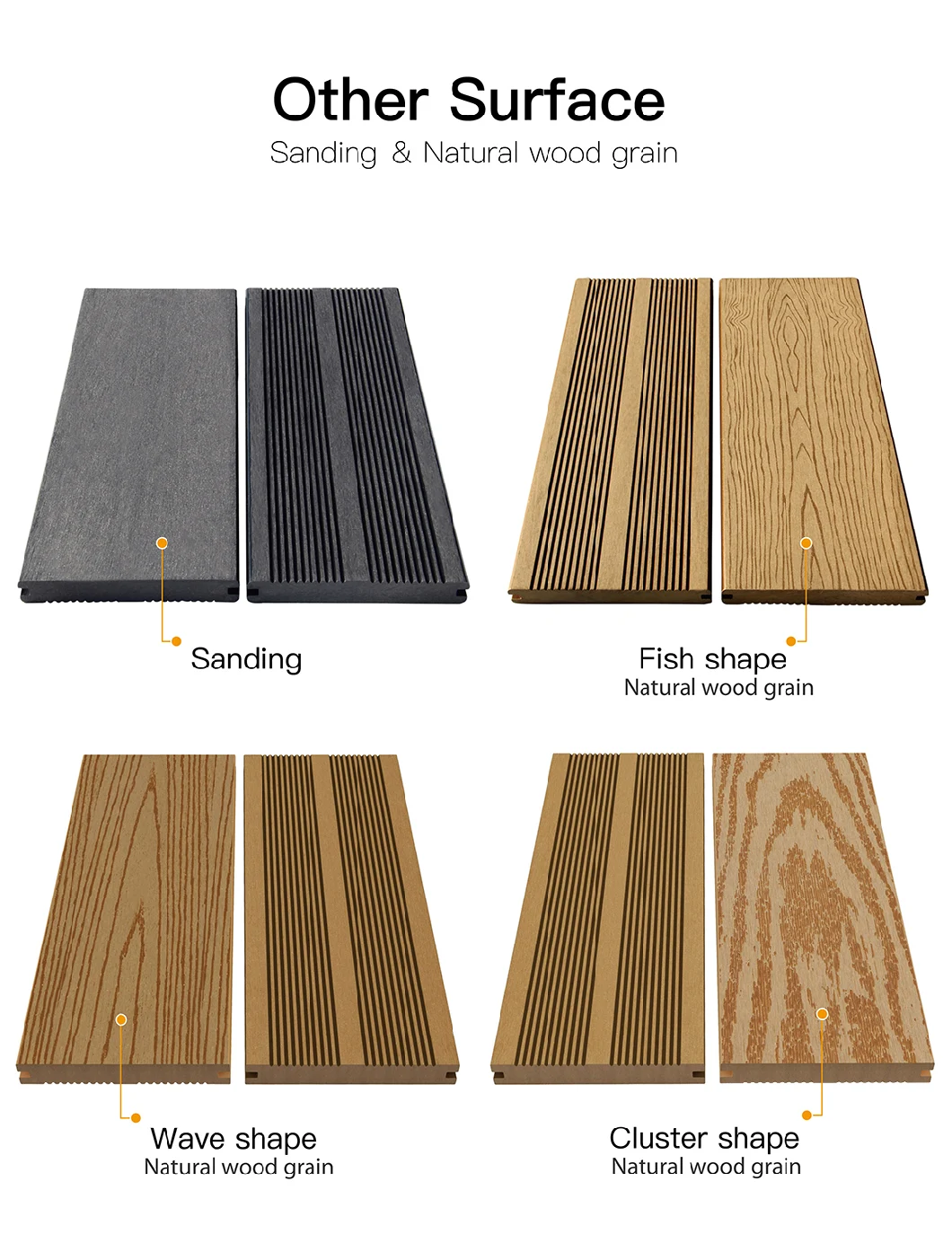 3. Color: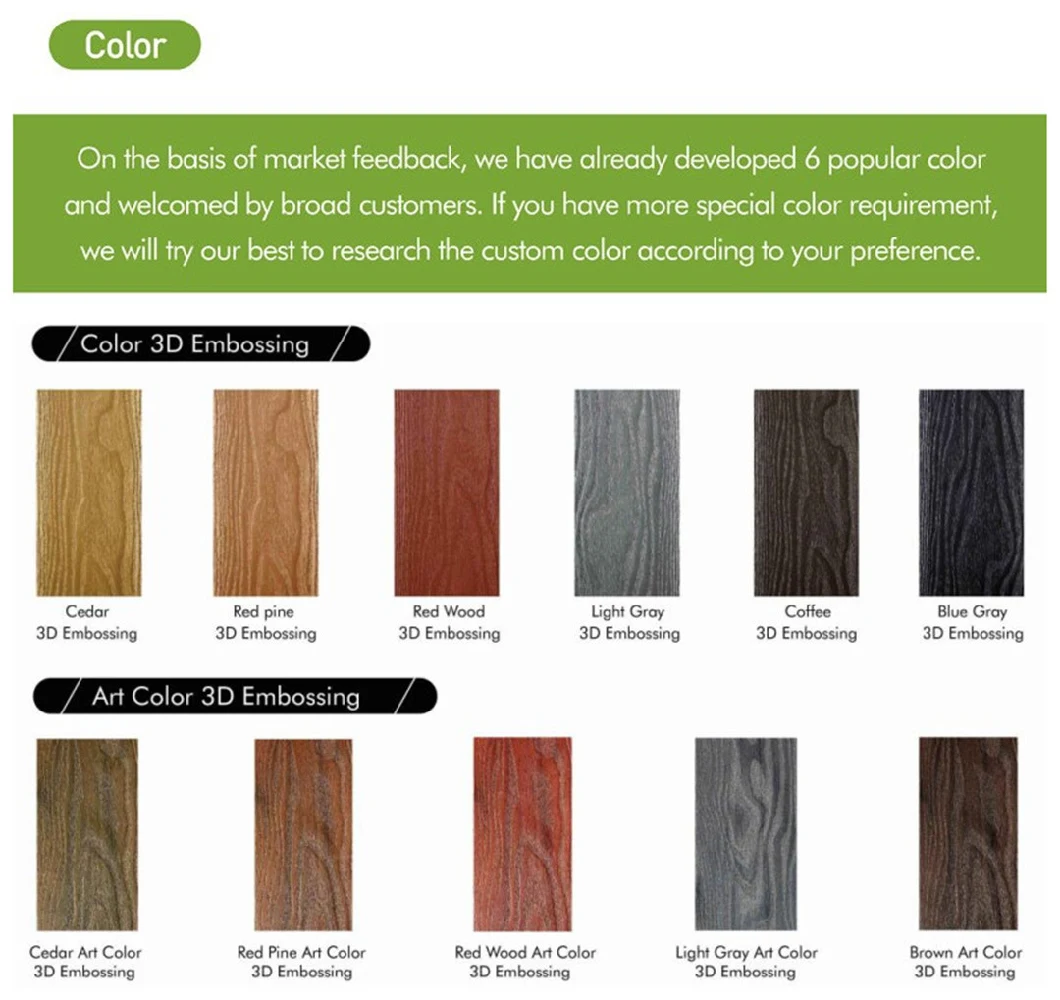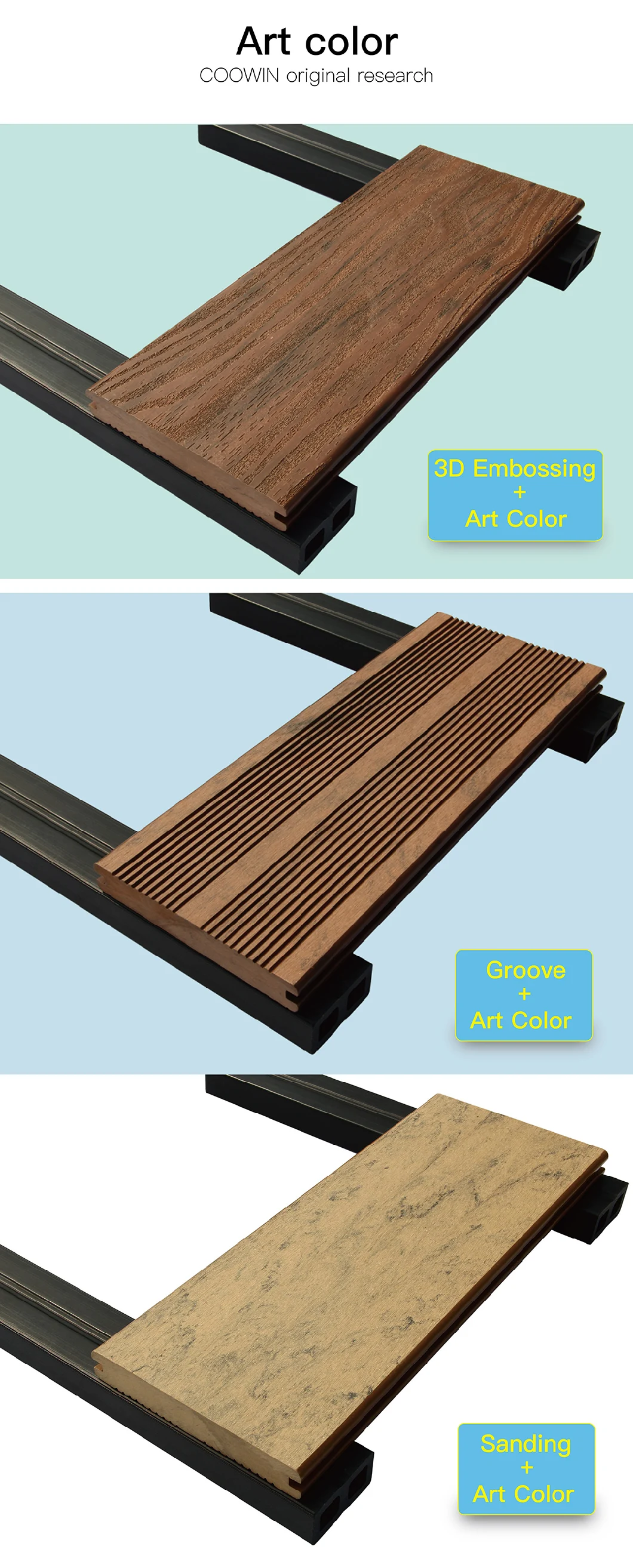 4. Installation:
It is very easy to install the wpc decking, you can refer the installation video on company website:
barefootwpc.en.made-in-china.com
At the same time, you can refer the simpls installation as below:
1. install the joist onto the ground
2. fix the wpc decking onto joist
3. use the wpc edge board to decorate the wpc decking project.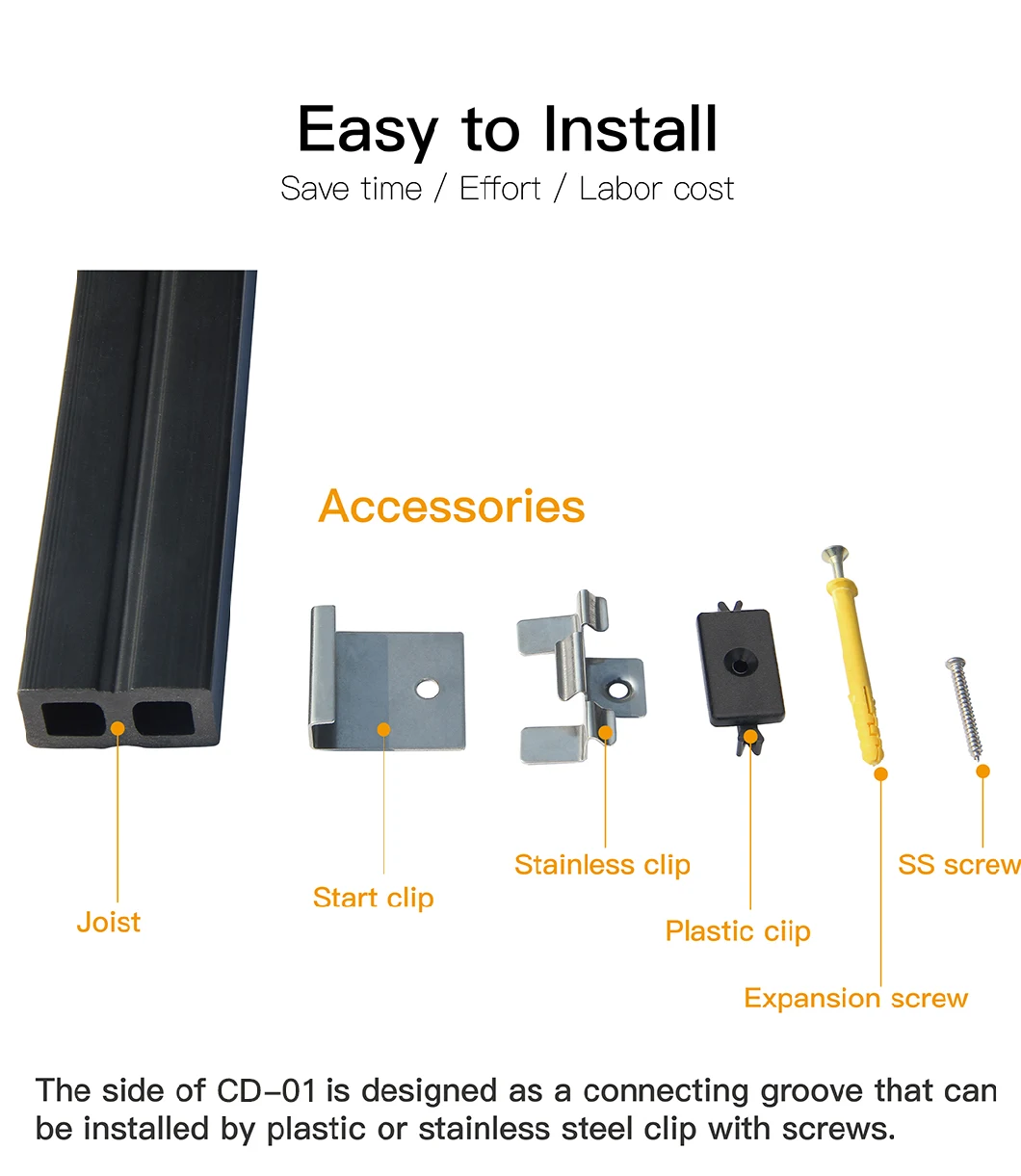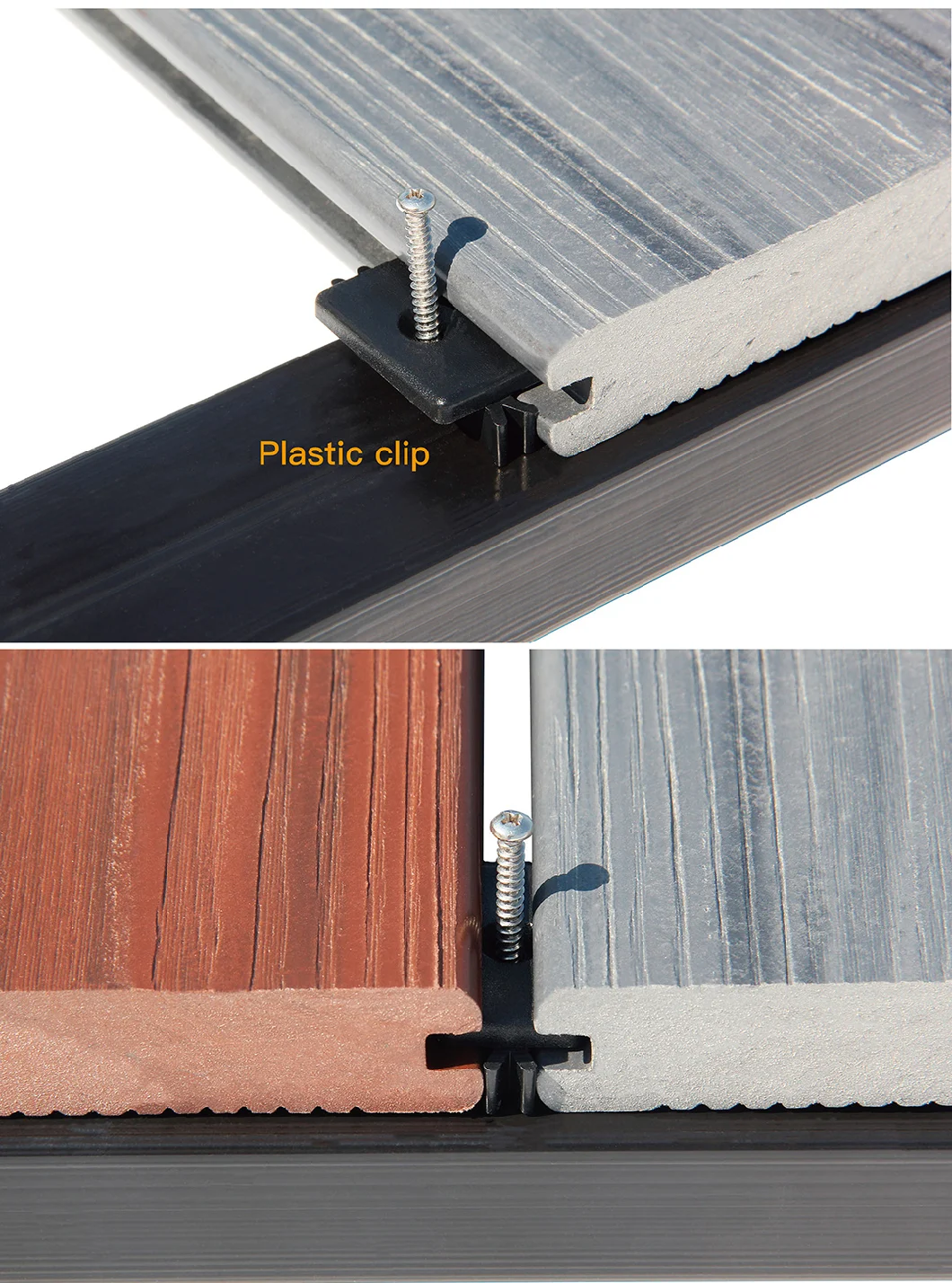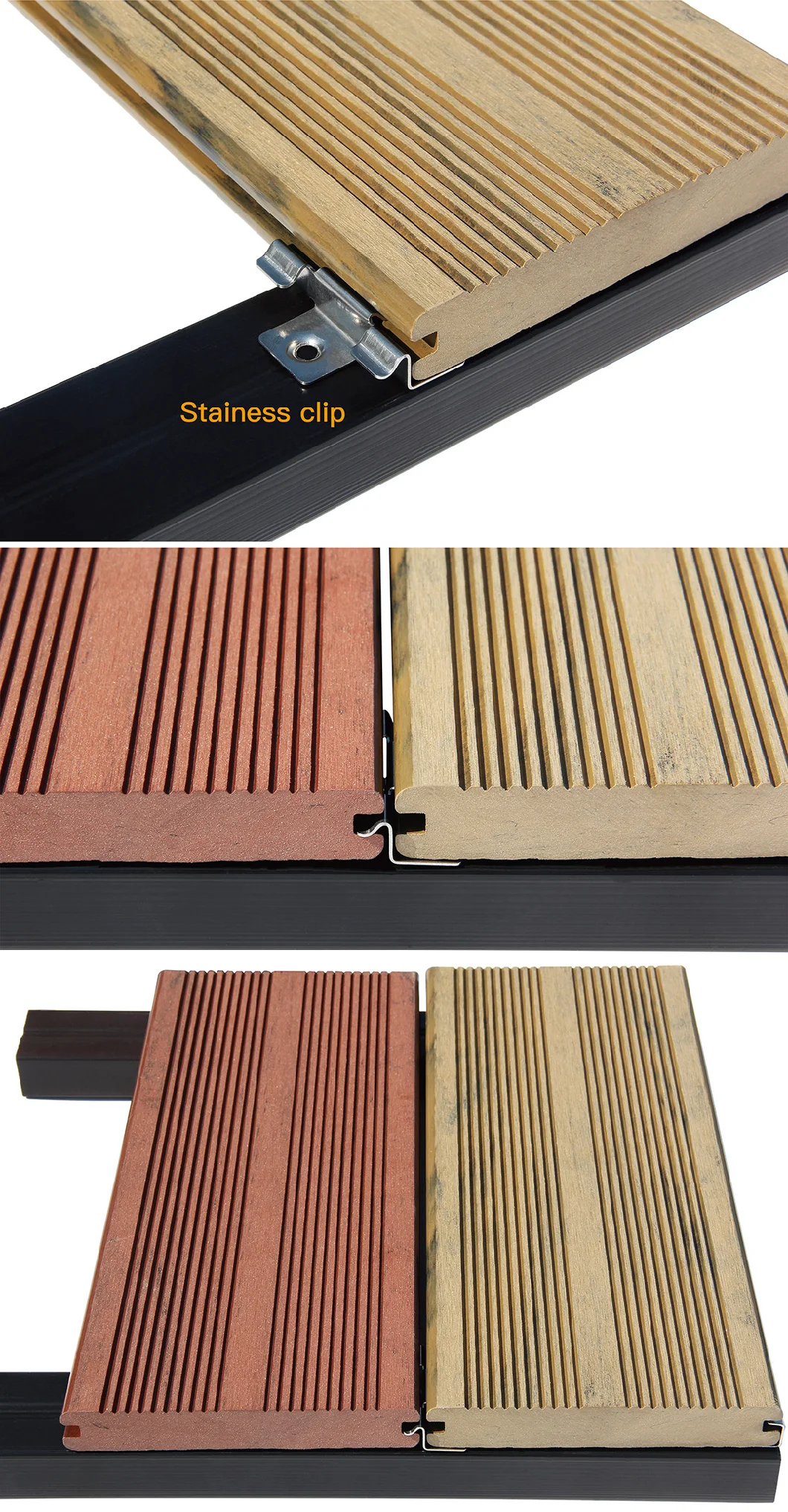 5. RFQ:

Q:Characteristics of WPC Hollow Decking
A:1. High density, high strength, clean, beautiful, service life is 10 times longer than that of ordinary wooden materials, can be 100% recycled.
2. Acid and alkali corrosion resistant, waterproof, anti-moth, anti-fungus, anti-bacteria, can be used under open-air.
3. Can be recycled for second processing, can be saw, nailed, drilled and dig. No need to paint, the shape,
color, size can all be adjusted as clients require.

Q: Is it easy to install WPC product?
A: It is very easy and convenient to install due to it is the profile with standard size,
it only need some cropping and necessary appendix to finish the installation,
need no further processing.

Q: How long is the service lifetime of WPC products?
A: It is about 25-30years under ideal situations.

Q: Do WPC products need painting? What color can you provide?
A: As the difference with the wood, WPC products themselves own color, they need not extra painting. Generally,
we provide 8 main colors as Cedar,yellow, red pine, red wood, brown, coffee, light grey, blue grey. And also,
we can make special color per your request.

Q:How good do the color hold up, guess it are losing some color but can you describe how many % it loses and how fast?
A:As you know, all the composite products exposed to the sun will undergo some fading with weathering,
it's possible for the color have a little fade,In our wpc products, we have added the anti-UV additives,
so pls rest assured that our wpc have the outstanding advantages with anti-fading.
but after the first 3 months, then it will become more natural color without change.
Pls take it easy,that will never effect the color appearance.

6. Features:
Waterproof, high strength, ant-slip, free samples and so on.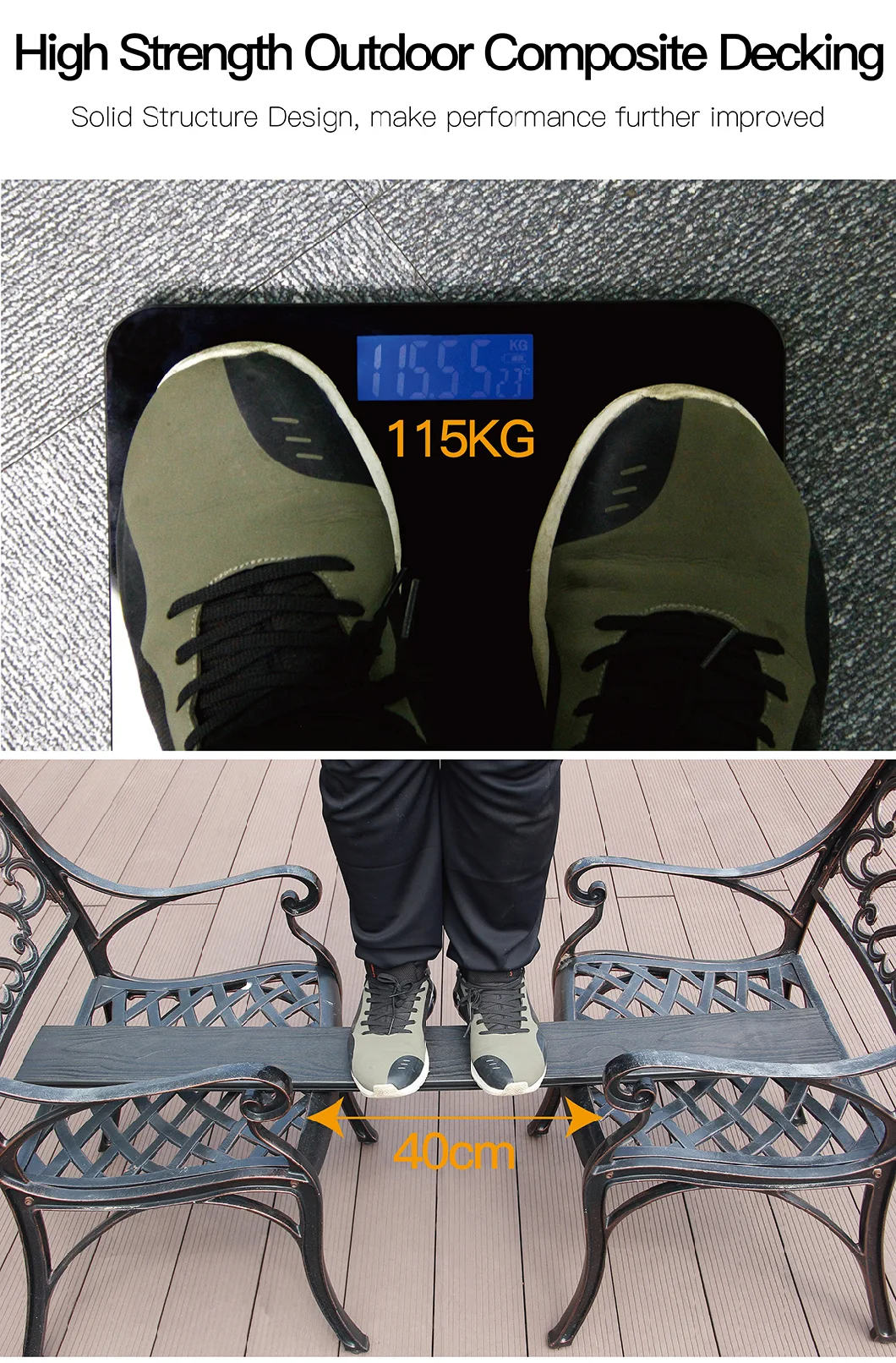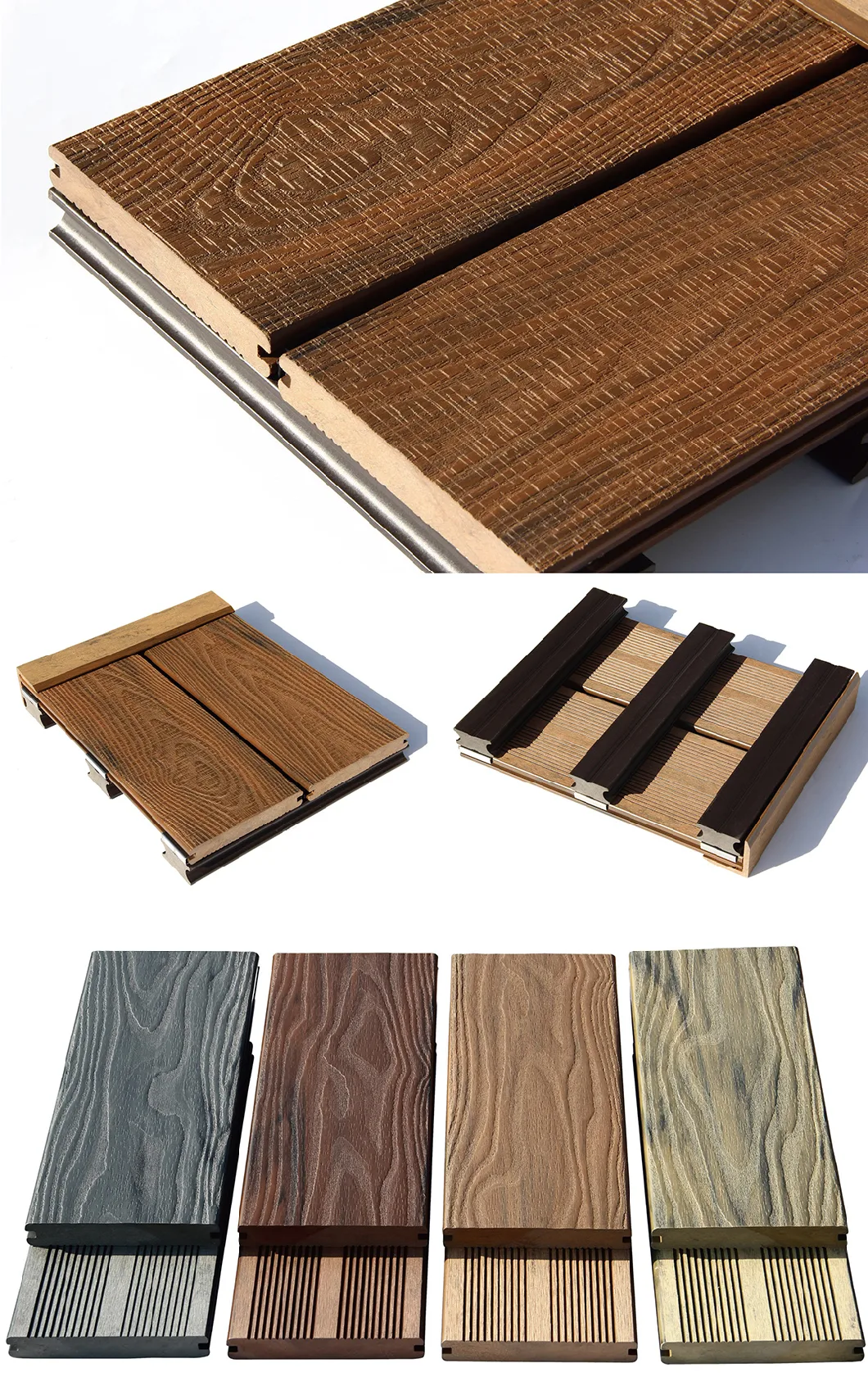 If you have any interest, freely contact me !