Wood Grain 90*45mm WPC Wood Plastic Composite Handrail for Sale
Engineering Project
New Insight has been applied in Beijing Olympic Games Stadium,Shanghai Word Expo in 2010, Football World Cup Finials in South Africa in 2012, the Asian Games in 2010. Also, Our company provides wood plastic composite to the key projects in many province and city like Hangzhou National wetland park, palace museum in China. Our projects have winned widespread praise.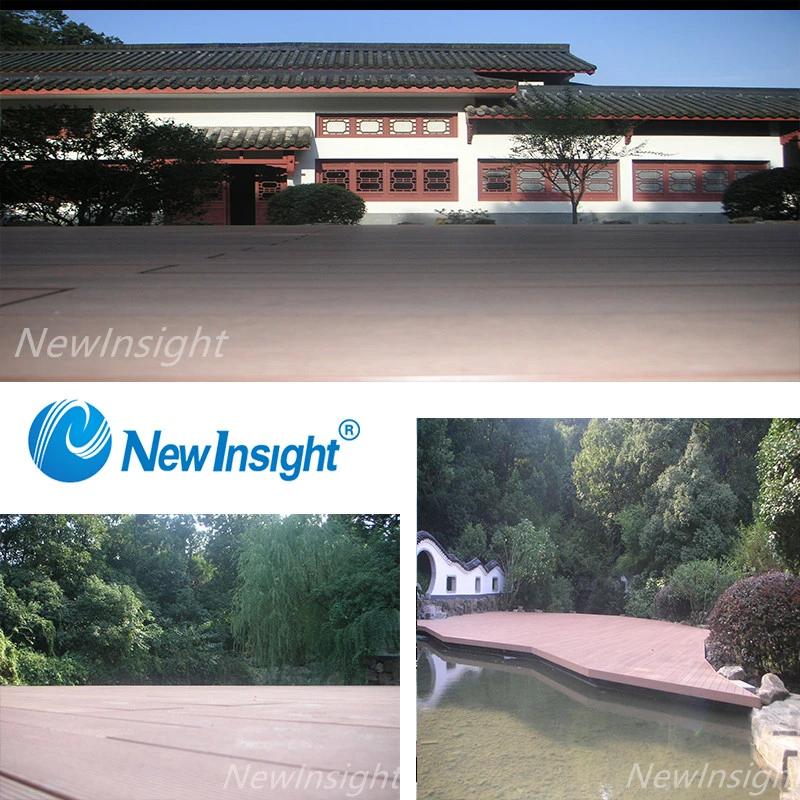 New Insight Wood Plastic Composite's Advantages:
1.Physical Properties:
High strength and hardness, Insulation, Water-proof, no rot, no cracking, Anti-skid, Color stability, Resist to acid and alkali, Anti-corrosion, Cold and Heat insulation, Abrasion resistance, Anti-UV, Resist moisture, Low maintenance, Color stability.
2.Chemical Properties:
No formaldehyde or other dangerous chemical component, 100% recycled and reused, No pollute air.
3.Processability:
Install easily, Saw, Plane, Glue, Nail, Screw is available.
Detailed Images:

Certification: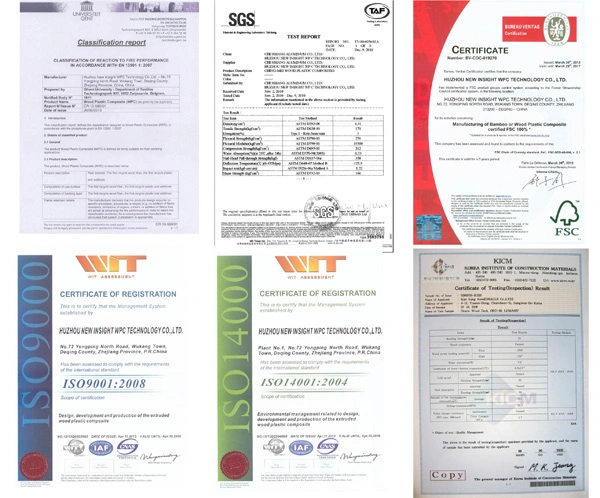 Color Choice: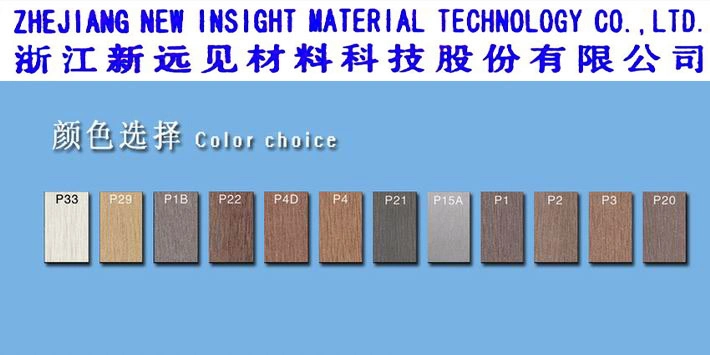 Surface Treatment: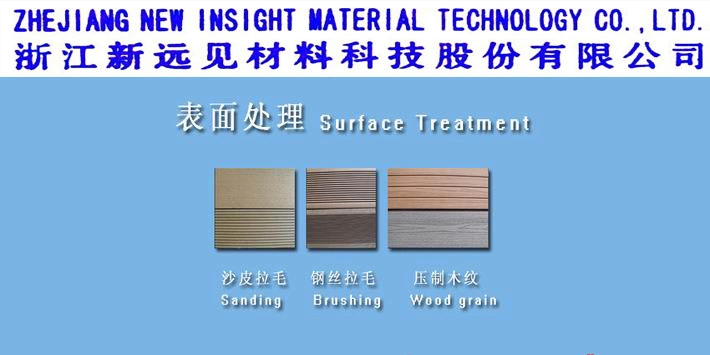 Production: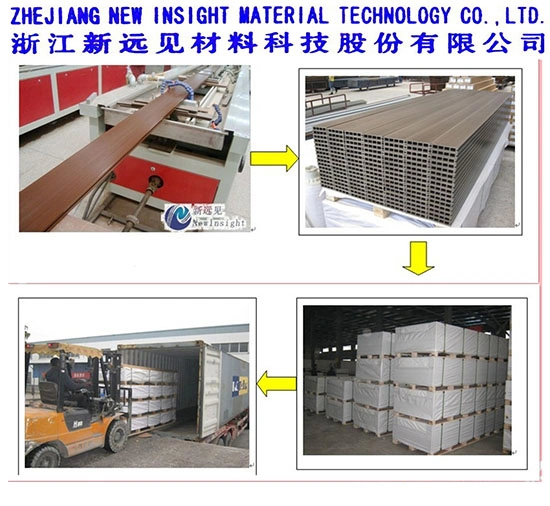 Company Info:
HUZHOU NEW INSIGHT WPC TECHNOLOGY CO.,LTD is located in the Deqing Economic Development Zone Zhejiang Province, which covers an area of 20,000 m2, and it is 39 km far away from West Lake Hangzhou, 180 km far away from Shanghai. HUZHOU NEW INSIGHT WPC TECHNOLOGY CO.,LTD was established in 2009, it is a subsidiary company of Zhejiang Newinsight Industrial Co., Ltd ,which specializes in Wood Plastic Composite

(WPC) materials' research & development, production, products design, moulds development, construction & installation, products sales company. It is a English solelyinvested enterprises with 10 million RMB of registered capital and 50 million RMB of investment. The designed annual output is 20,000 tons, the aim is to becom one the of biggest WPC industry bases in China.

New Insight company started the research and development of WPC new material in 1996, and made WPC material successfully in 2006. Meanwhile, we have got lots patents about invention and profile, and the patents' quantity is increasing continuously. Since our company founded, the annual output and sales amount increased stably with speed of 30% every year, thereinto, we invest at least 5% of the sales amount for researching & developing new products and equipments.

WPC is a new kind of green building material, which is the best substitute of nature wood and plastic products.All the products could be widely used in national military, municipal landscape, construction engineering, gymnasium, seaside path, private courtyard, indoor and outdoor decoration, such as: decking, wall cladding, fencing, railing, gazebo, corridor, pergola, flower case, outdoor desk and chair, tally, billboard and so on.

Our WPC products have been used in lots of famous places and scenic spots, for example: Beijing Olympic 2008, Shanghai Expo 2010, London Olympic 2012, the Imperial Palace, West Lake, Xixi wetland, Greentown property. Meanwhile, we are exporting to USA, Germany, France, UK, Italy, Japan, Australia and so on more than 20 countries and areas, where our products are well praised by our customers.

We will continue to persist in the quality policy of :Strict management, Constant Innovation, Continual Improvement and User Satisfaction first", organize the implementation of famous brand product strategy. Meanwhile, we will complete our management system to achieve normative implementation and institutionalized management and we will focus on science and technology to achieve the perfect goal. We have more than 15 years of WPC research, development, production and sales experience, we will try our best to make China to become the WPC research and development base, products demonstration base, education & training base in the world, try our effort to save materials, protect environment and protect our common planet.


WPC Material
60% wood fiber (moisture lower than 1%)
35% plastic (Grade A HDPE)
5% additives
Certificates
CE, SGS, FSC,FCBA,ISO9001,ISO14001,Intertek,OHSAS18000
Surface Treatment
Sanding, brushing, wood grain, mix color, smooth
Advantages
1, longer service life(more than 12 years and 10 year quality guarantee)
2, Waterproof, Antiseptic, Slip resistant (wet & dry)
3, No crack/disruption/warp, No wood thorns hurt, No worm-eaten
4, Maintenance free, no need to paint, carry color itself
5, Same look and feel like real wood, but behave much better
6, Slight water absorption, good dimensional stability, very little expansion/contraction
7, 100% Recycled, friendly to the environment
8, Cuts/fastens/nail/paint easily, easy installing