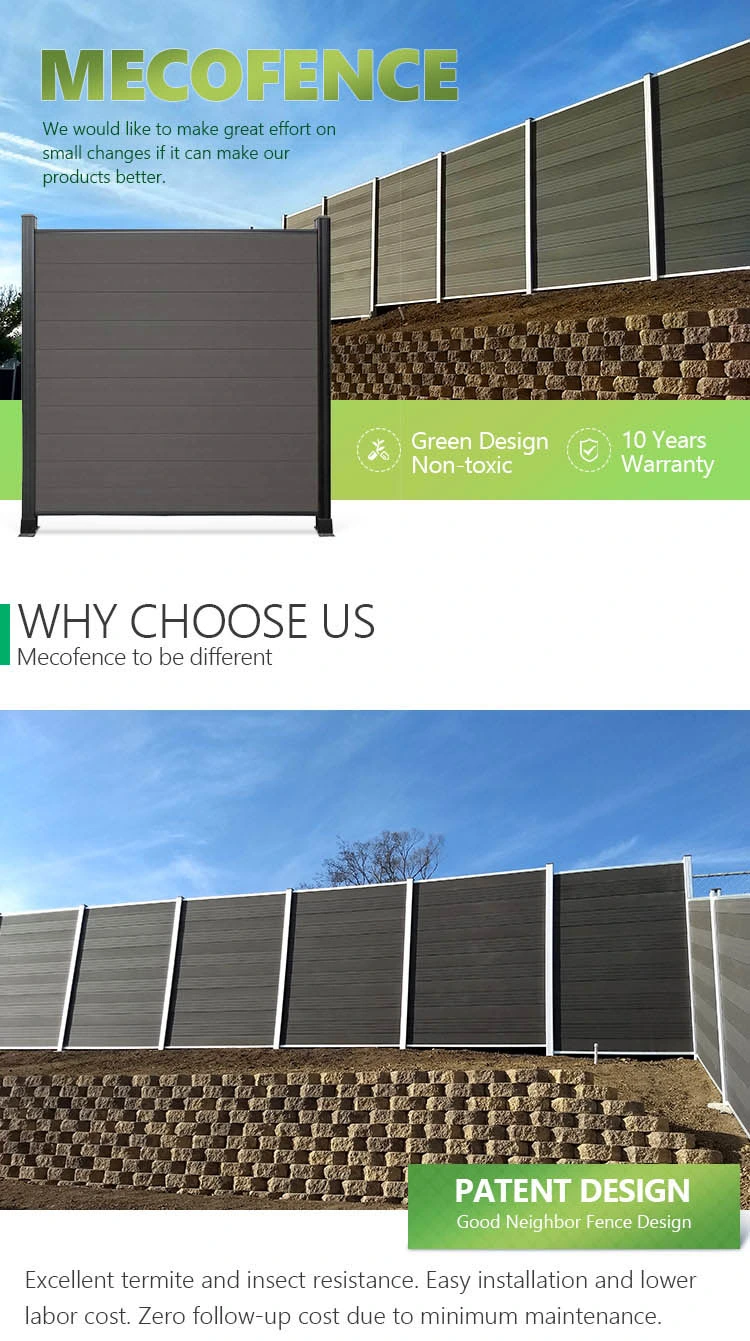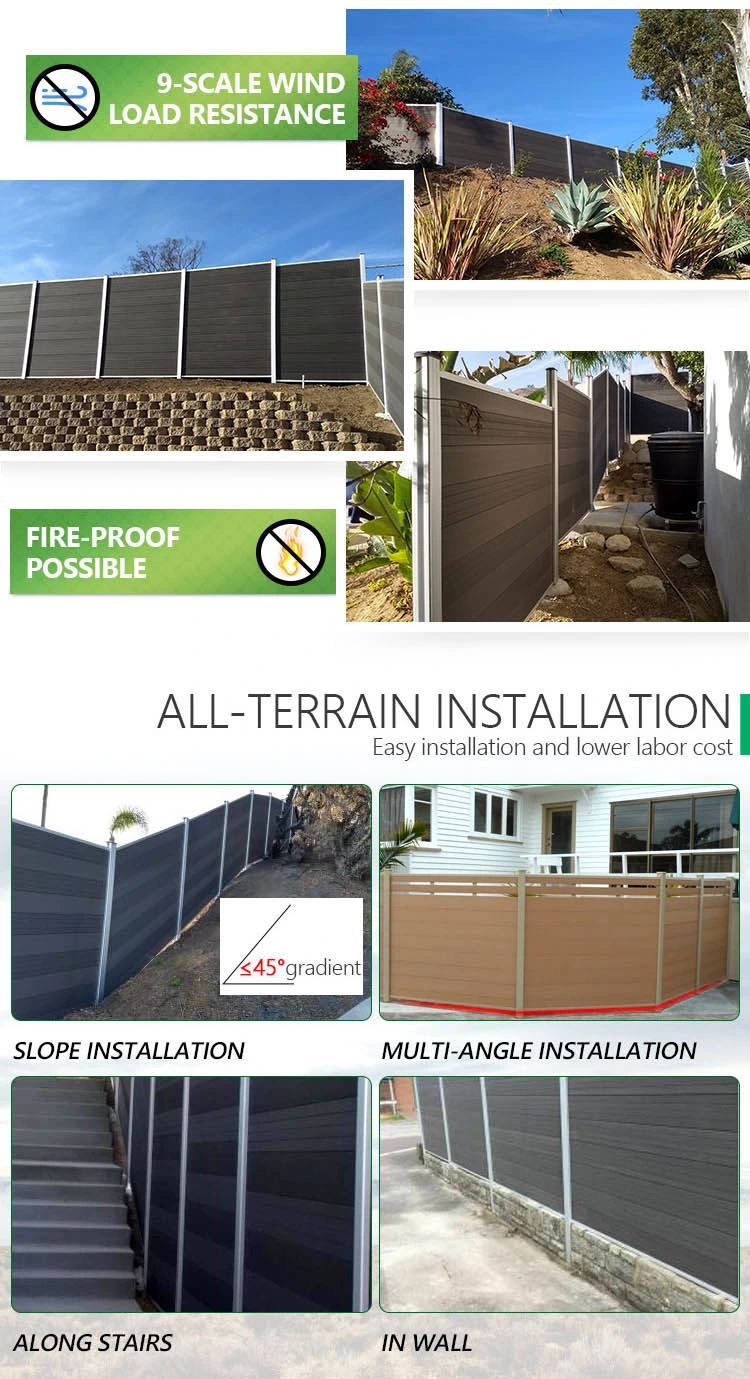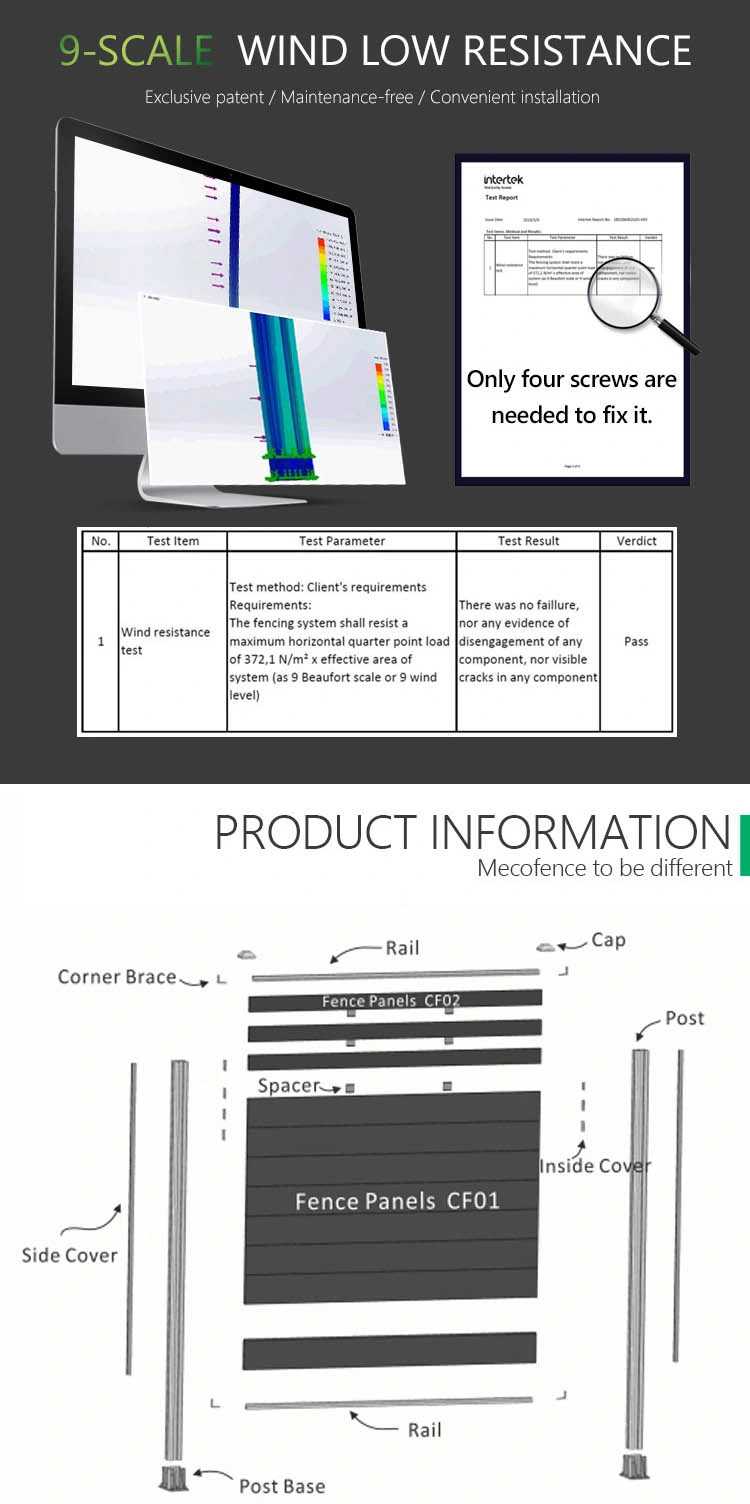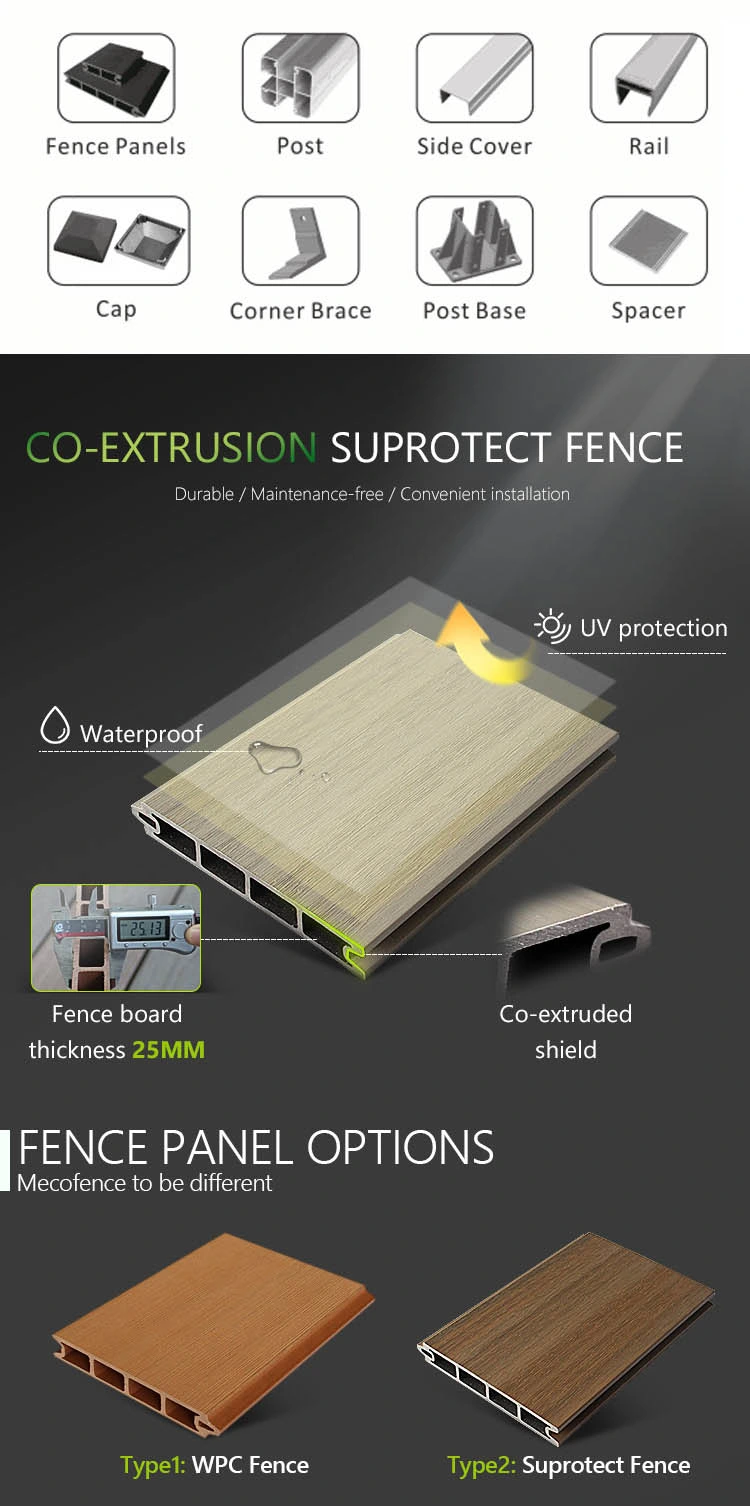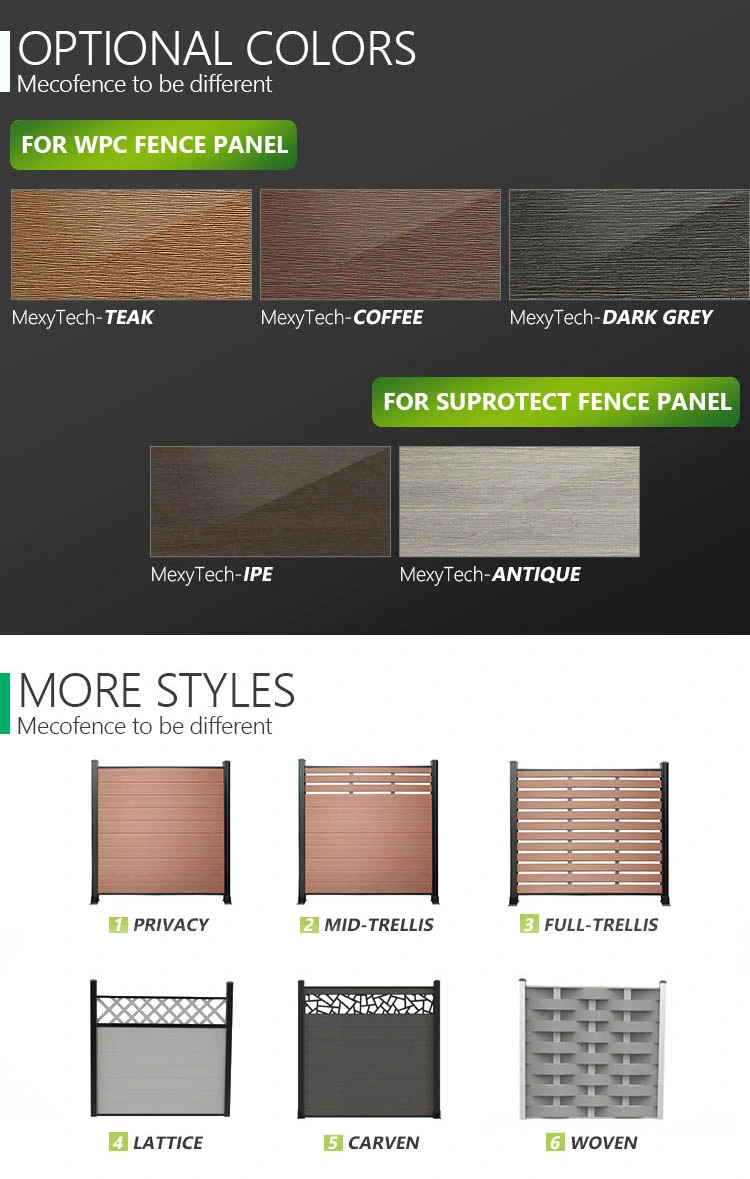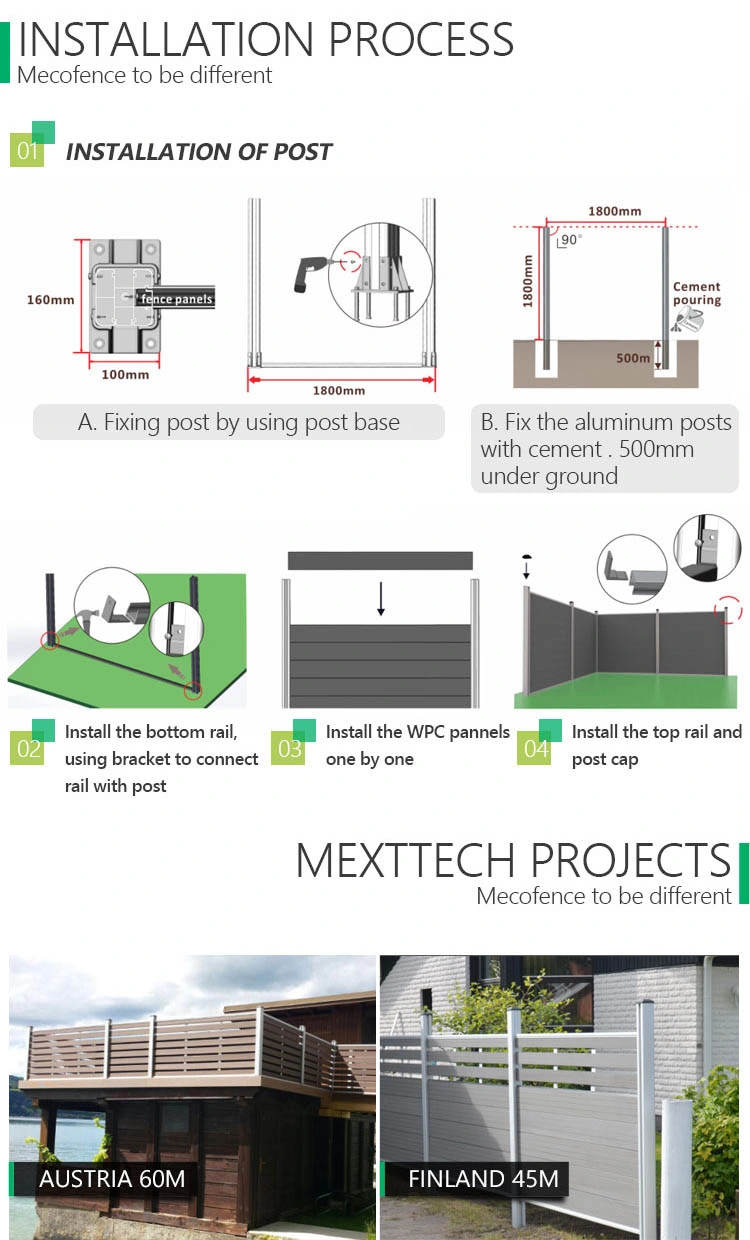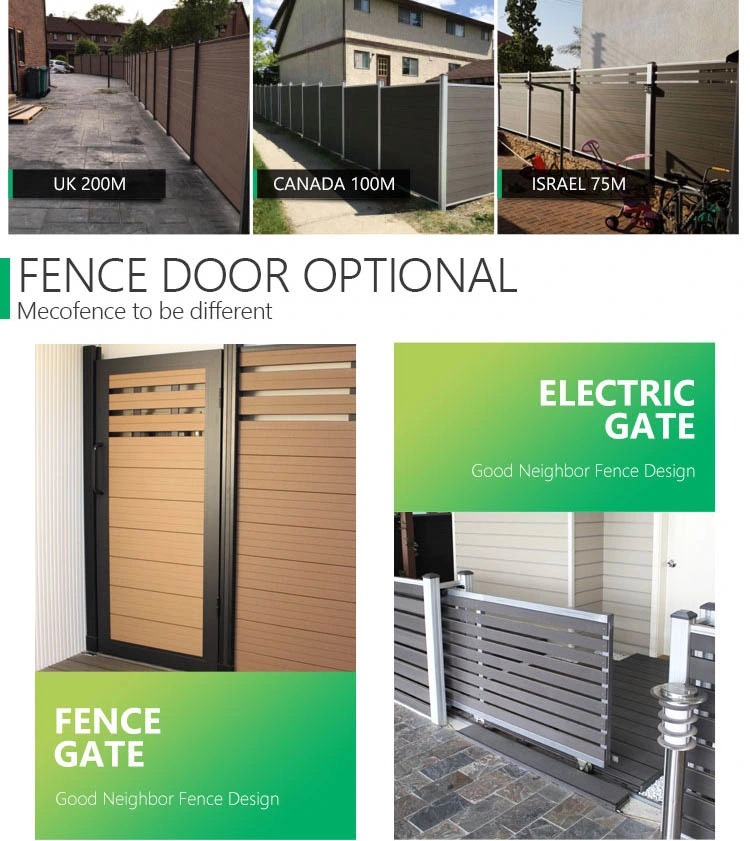 1. Specifications
| | |
| --- | --- |
| Brand | MecoFence |
| Multiple Sizes | Standard size: 6x6 ft (customized size accepted) |
| Easy Installation | 4 screws only for the fence installation (Video provided) |
| Low MOQ | <10 sets accepted |
| Exact Delivery | Delivery time agreement provided |
| Well Packing | Plastic Angle Bead+Carton+Pallets |
| Unique Product | 100% Patent Product |
| Durability | 9 scale wind load resistance |
| Fire-Proofing | B level for EN13501 and Top A level for ASTM E84 |
| 100% Eco materials | 100% recyclable and recycled raw materials applied |
| 0 Follow-up cost | Minimum maintenance and free painting or oiling afterwards |
| ODM & OBM | Welcome for ODM or OBM Cooperation |
| Multiple Colors | 3 standard colors and customized colors accepted |
| After Sales Service | 24H7D After Sales Service |
| R&D | 7 Patent Products in recent 3 years |
| 100% Real Certificate | 100% Real International Notified Test Reports |
MexyTech cooperating with university team for R&D and production process control, test reports can be provided for every batch products.

2. TEST

PROPERTY

Test Method

VALUE

UNIT



1. Density




ASTM D792-2008 METHOD B




1.285




G / cm 3




2. Flexural Modul u s




ASTM D790-07E1




3070




MPa




3. Flexural Strength




ASTM D790-07E1




38




MPa




4. Water Absorption




ASTM D570-98




0.18




%




5. Linear Thermal Expansion Coefficient




ASTM E831-06




49.82




UM/M °C




6. IZOD Impact Strength




ASTM D4812-06




79




J/m




7. Hardness




ASTM D2240-05




D/76/1




8. UV Resistance (Light Resistance / Xenon-Arc Exposure)




IS0105-02: 2000/AMD. 2: 2000(E), ISO 05-A02: 1993 Cor2: 2005, Exposure 720 hours


Grey 4-5 grey scale

Brown 4 grey scale
Mahogany 4-5 grey scale
Dark Walnut 4-5 grey scale



/




9. Thermal Shock Test




IEC 60068-2-14 Na: 1986, 5 cycles




No signs of cracking, warping, chipping and discoloration




/




10. Mould Resistance




ASTM F609




First Grade




/
3. Comparison
| | | | |
| --- | --- | --- | --- |
| Comparison | Mecofence | Wood | Vinyl |
| Unique Looks | ★★★ | ★ | ★★ |
| Low Maintenance | ★★★ | ★ | ★★★ |
| Long-term Durability | ★★★ | ★ | ★★ |
| Easy Installation | ★★★ | ★ | ★★★ |
| ASTM E84 Fire Test Top Level | ★★★ | ★ | ★ |
| Optional Colors | ★★★ | ★ | ★ |
| Good Neighbor Fence Design | ★★★ | ★ | ★★★ |
| No Reflection Surface | ★★★ | ★★★ | ★ |
| Weathering Resistance | ★★★ | ★ | ★ |
| Termite and Insect Proof | ★★★ | ★ | ★★★ |
| No Toxic | ★★★ | ★★ | ★ |
| Eco-Friendly | ★★★ | ★ | ★ |
| Structure Against Wind Load | ★★★ | ★ | ★ |
| Rot Resistance | ★★★ | ★ | ★★ |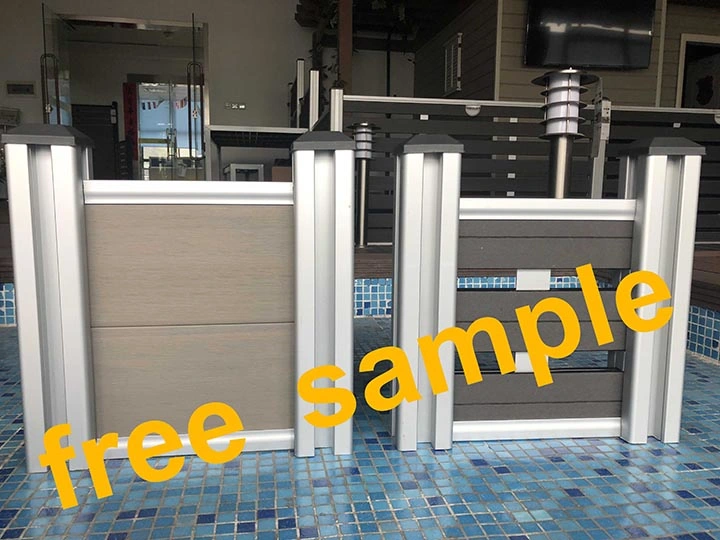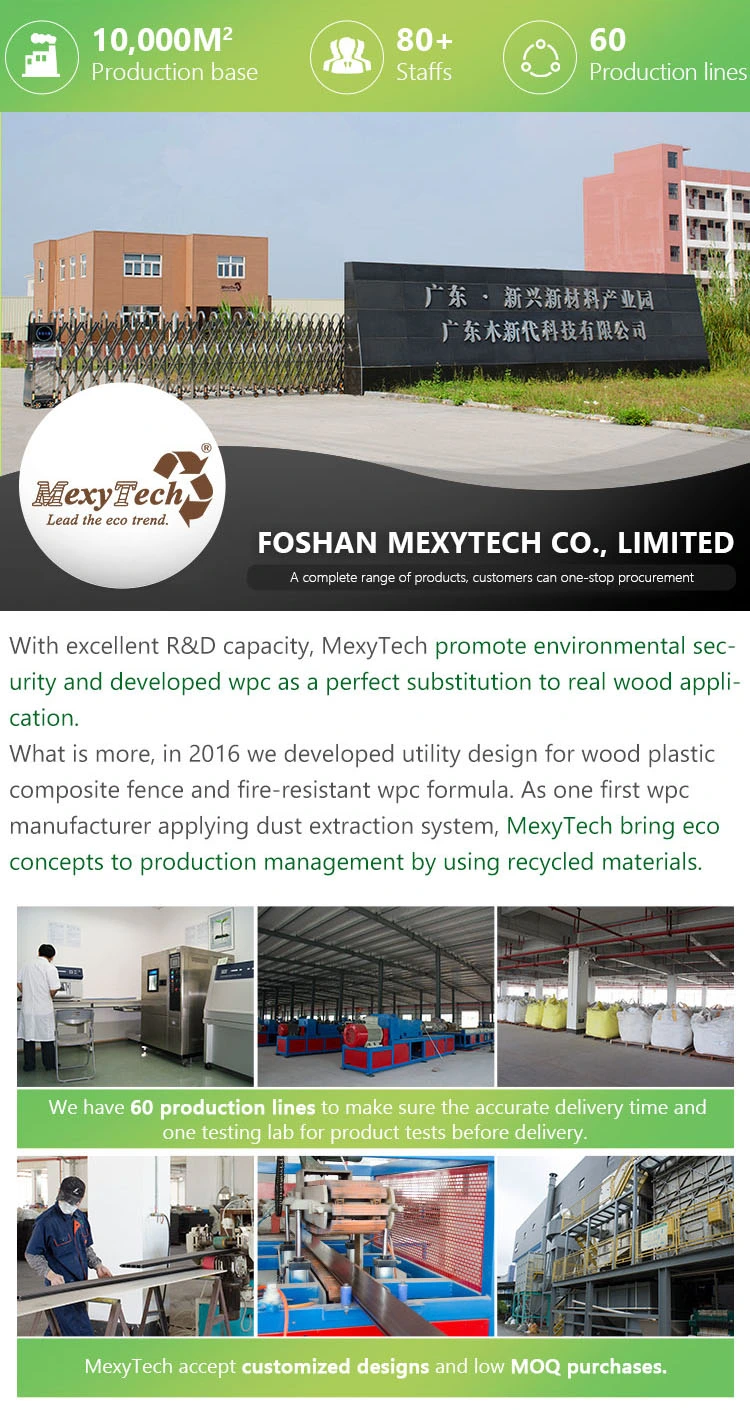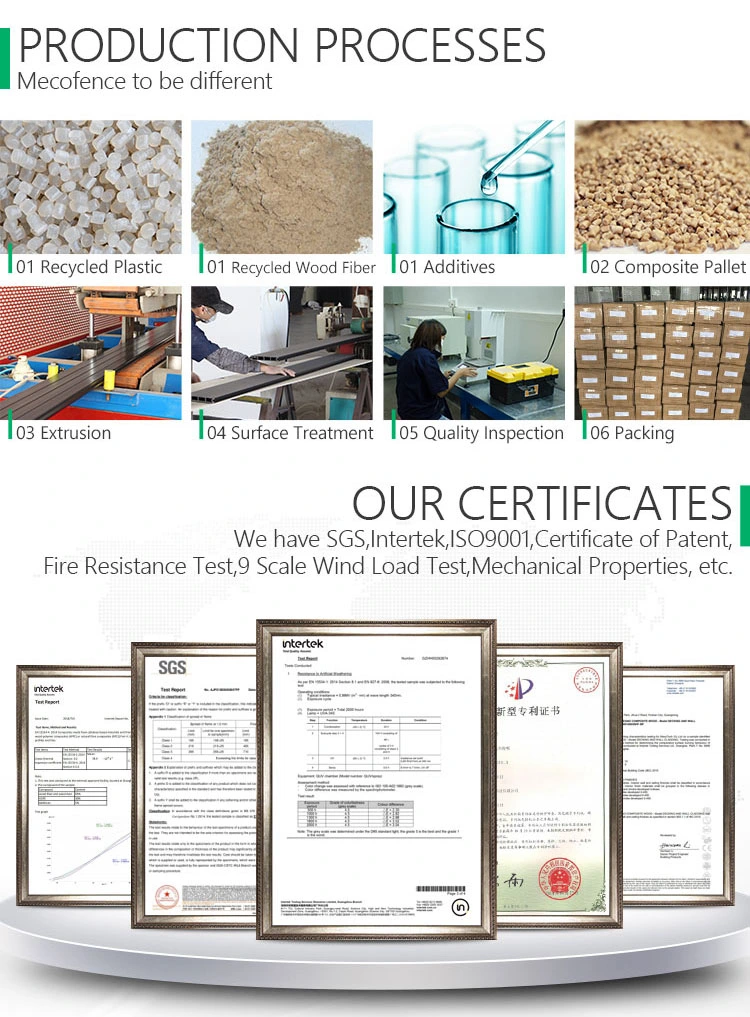 FAQ
1.How Is The Packing Of The WPC?
Now, we will use pallets for packing due to easily for unloading. Moreover, for special orders, we will use iron band for packing and air bags to prevent packing falling.
2.Compared to real wood, what is the advantages of WPC?
Shortly speaking, WPC not only has better mechanical properties, weathering resistance, color fastening, chemical stability and low heavy metal content , but also is water-proof.
3.Will color fade because of weathering?
Unlike real wood, our products have great color fastening performance. The color will just fade a little at the beginning of three months, and then the color will become very stable for later application.
4.Are MexyTech' products easy to install?
Definitely. Our customers can find all fitting and hardware in Mexywood. Also you can download the materials of installation from our website. We are pretty sure that our products can meet your DIY request.
Our services
We will control Quality and delivery time strictly
Timely follow up about the feedbacks from customers
Provide professional advice for your engineering design.
Supply technical guidance for installation.