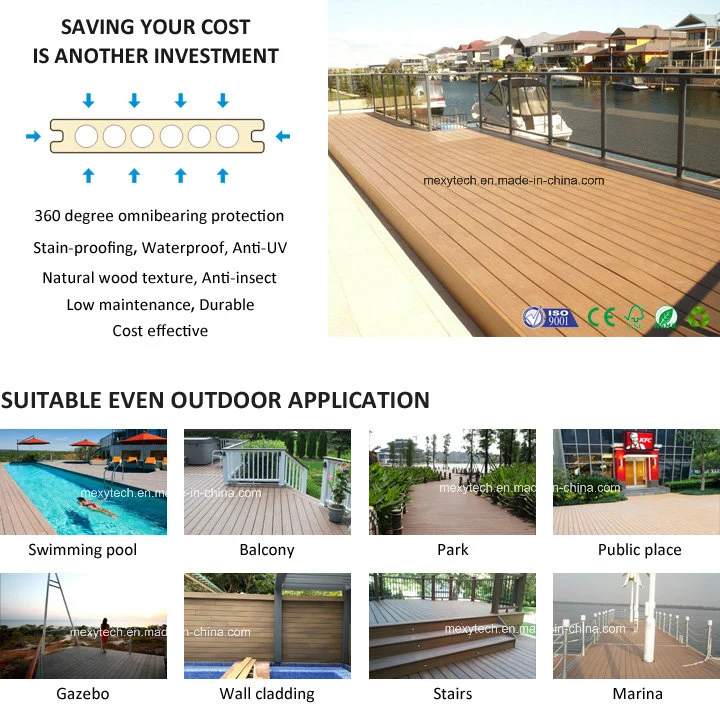 MexyTech is the leader coextrusion composite decking supplier in China.Specifications
Latest WPC coextrusion technology.
Superb Scratch Resistance,
Superb Stain Resistance,
Undeniable wood feeling
Low maintenance
Co-extrusion is a new technique
of extruding multiple payers of composite wood simultaneously.In 2010, MexyTech began a project to design and formulate the most durable, most attractive, most fade and scratch resistant, most beautiful, and most reliable composite deck board in the industry. Two years of engineering and countless hours of field-testing has yielded a product of unmatched performance and beauty.
Outer layer
Co-extrusion decking is permanently fused to its composite core. The unique composition of the outer layer provides better control over pigmentation, resulting in a denser, richer color, more variation and a more realistic look.it can provide the best weathering resistance,hardness,natural appperarnce
Our outer layer encases all four sides to give absolute protection.
Inner layer
The inner layer is made from environmentally-safe material,such as recycled mild jugs,plastic bottles,and wood fiber.
The highly dense inner layer allows for greater strength and durability.
SP-ML02
Color and texture:
MexyTech co-extrusion decking comes in four natural colors and two wooden textures. will give you a realistic wood appearance.
Co-extrusion Deck can be used for more than 20 years
Co-extrusion decking will not rot, split, splinter, check, or suffer structural damage from fungal decay.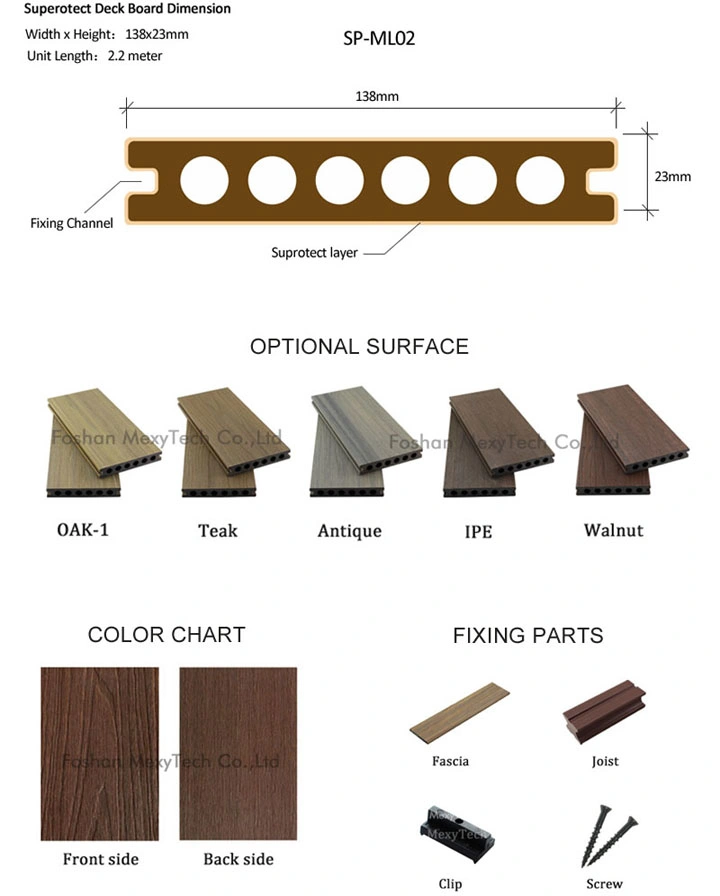 PROPERTY
Test Method
VALUE
UNIT
1. Density
ASTM D792-2008 method B
1.285
G/CM3
2. Flexural Modulus
ASTM D790-07E1
3070
Mpa
3. Flexural Strength
ASTM D790-07E1
38
Mpa
4. Water Absorption
ASTM D570-98
0.18
%
5. Linear Thermal Expansion Coefficient
ASTM E831-06
49.82
UM/MºC
6. IZOD Impact Strength
ASTM D4812-06
79
J/m
7. Hardness
ASTM D2240-05
D/76/1
8. Grip Nail Strength
LY/T 1613-2004
1732
N
9. Nail Withdrawal Test
ASTM D1761
802
psi
10. Creep Recovery Test
ASTM D7032-SECTION 5.4
82.66
%
11. Hot Distorted Temperature
ASTM D648
≥100
ºC
12.UV Resistance (Light Resistance / Xenon-Arc Exposure)
IS0105-02:2000/Amd.2:2000(E), ISO105-A02:1993 Cor2:2005, Exposure720 hours
Grey 4-5 grey scale
Brown 4 grey scale
Mahogany 4-5 grey scale
Dark Walnut 4-5 grey scale
/
13.Thermal Shock Test
IEC 60068-2-14 Na: 1986, 5 cycles
No signs of cracking, warping, chipping
and discoloration
/
14.Slip Resistance (Using a Horizontal Pull Slipmeter)
ASTM F 609
Slip Index Reading 6.63
/
15.Mould Resistance
ASTM F609
First Grade
/
16.Thermal Conductivity
EN 12524 or EN 12667
0.19
W/mk